Look ahead, a year or two into the future. You've completed business management college and landed your first job. Let's say you're at a small business or medium-sized company, working in an administrative position.
What's your strategy for getting noticed, and proving you've got management potential? How will you move up into a team leader or supervisor role?
You need an action plan; steps you can take to show your boss you're ready for more responsibility.
What can you do to set yourself apart, and prove you're the best person to promote?
These are 5 straight-forward techniques every business management student should remember, once they're out in the workforce, and angling for that very first promotion.
Let these be your golden rules—your rungs up the ladder of corporate success.
1. Take the Lead: Speak up & Show Initiative
Quick disclaimer: this does not mean overstepping your authority, bossing other people around, and acting arrogantly toward your co-workers.
When we say "take the lead", we're talking about showing initiative, and acting with the maturity and professionalism that befits a true leader.
For example, you see tasks that really need doing around the office (which no one else is paying attention to) and either get them done yourself, or suggest a plan for doing so to your supervisor.
Or, let's say there's an administrative process you follow every day (for coordinating tasks, organizing schedules, communicating with team members, etc.) and you can see a way to make it much more efficient.
Here is an excellent opportunity to note down your ideas and present them to your team lead. Use those organizational and project management skills you learned in business management training!
Show you're able to think big, analyze operations, and come up with strategic improvements (key responsibilities for any manager).
Also, when your team has meetings, make sure you're really listening and participating. Contribute ideas and work hard to suggest solutions to any challenges your department is facing.
This will definitely earn you some promotion points.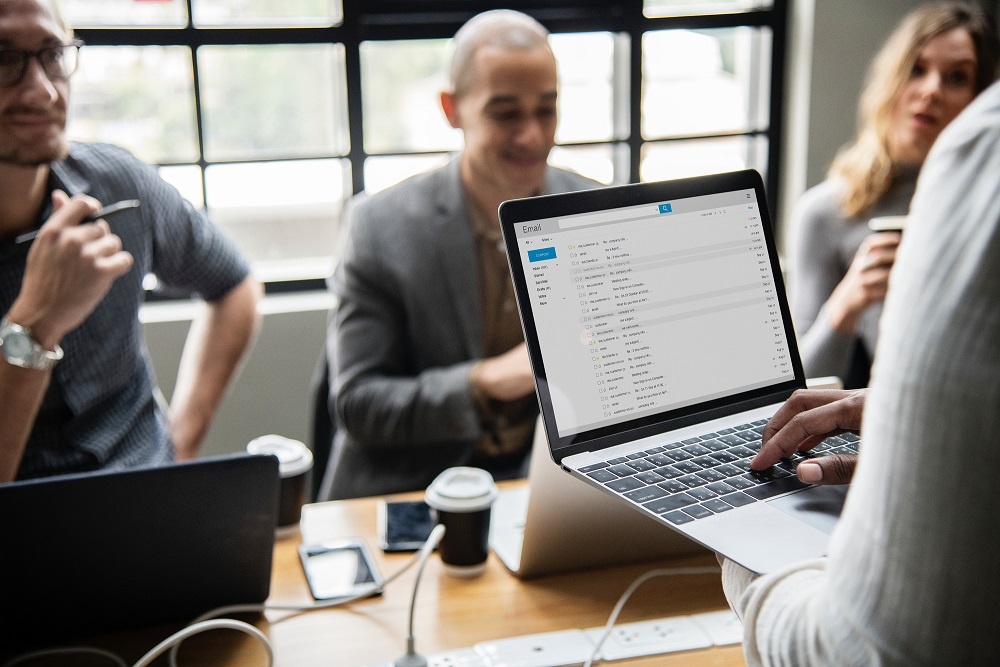 Contribute meaningfully in team meetings, and show you're focussed on solving problems for your department
2. Be open & honest about your management goals
There's nothing wrong with letting your supervisor know you want a career in business management. When it comes time for your performance review, feel free to talk about your long-term goals.
Make it clear that you're dedicated to working hard in your current position, but that ultimately, you're looking for more responsibility.
Jill Jacinto, a millennial careers expert and associate director at WORKS, gives this advice to anyone seeking a promotion:
"You really need to be your own advocate... When it's raise time or promotion time, you need to remind them of the great work you're doing for the company and your goals for the next several years." Make it known that you're interested in a path that involves people management, and put your hand up when a position at the next level becomes available."
Highlight the business management courses you took, and the confidence you have in your ability to lead.
Speak passionately about helping the organization meet its growth goals (this is key—make sure they know you're not just in it for yourself, and that you care about the business succeeding).
Unfortunately, some people think all they need to do is work hard, and higher-ups will notice their potential, and deliver that promotion. The truth is, you need to make your aspirations known.
A good manager will respect your drive, and the fact that you've mapped out clear objectives for your business career. They'll consider you more seriously when leadership roles open up in your company.
3. Do more & really own your work
No excuses. An important task you were supposed to complete fell through the cracks? Didn't finish that sales report because 5 o'clock rolled around, and you wanted to head home?
People who want promotions get it done. They stay late and arrive early. They go the extra mile, and when mistakes happen, they own it.
No matter what task you're working on, big or small, you need to own that process from start to finish. No passing the buck. No ducking responsibility.
Kyle Wong, the incredibly successful founder and CEO of Pixlee, said in an interview with Muse:
"Organizations place a premium on individuals who follow through on tasks. If you can prove that you can consistently own projects from start to finish, you will not only get promoted, but you'll also make yourself indispensable."
When you become a manager or team leader, you'll be fully responsible for meeting certain goals and targets. Show you're ready and willing to take on that level of commitment. Show you can be counted on.
Start small with the tasks you're currently responsible for, and look for ways to add value, above and beyond your job description.
Finish what you start, and go the extra mile to get things done better and faster for your team
4. Don't step on your competition—help them!
It is a myth that stepping on others helps you get ahead in business. This tactic only makes you enemies for life—people who will vengefully work against you, undermine your reputation, and stop at nothing to see you fail.
You might get a quick, short-term gain by making a colleague look bad (so you'll shine by comparison), but trust us, it won't be worth the long-term losses.
Always remember, higher-ups are watching closely how you treat people around you. It's far better to actually help your co-workers, support them in their work, and be generous.
Think of it this way: after you get promoted, you might have to manage your former team members. You want them to respect and work hard for you—not spend all their time trying to take you down!
Business is a team sport. Good leaders help everyone rise. Be that person, right from day one. You'll gain valuable good will and admiration from everyone at your workplace.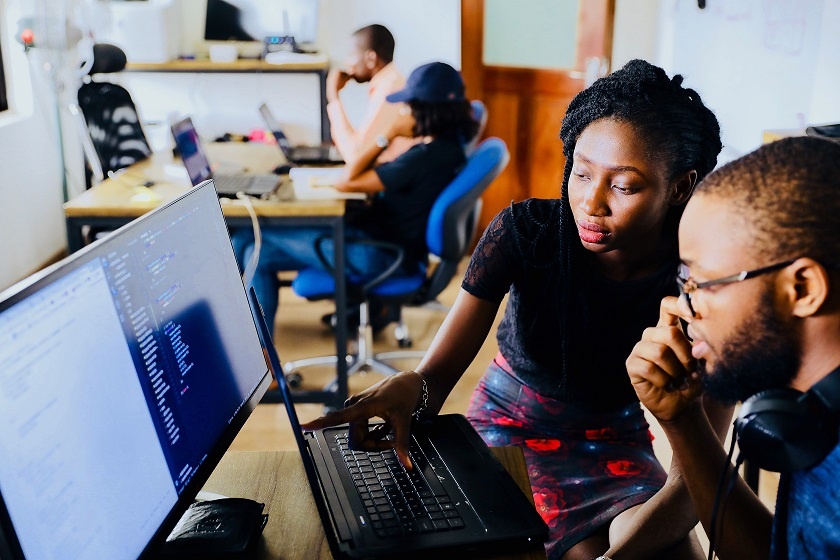 Being helpful to others shows you're a team player, and ready to take on a leadership role
5. Don't get sucked into office gossip
We get it: gossiping around the coffee machine can be an easy way to make friends at work, and add a little excitement to your day. But is it worth it, if you're hoping to make manager one day?
Think about the damage it could do if something negative you say makes it back to your current supervisor, or a department manager. People have very long memories when it comes to insults, or embarrassing anecdotes.
And do you really want to become known as the office gossip? It's unprofessional. And it's certainly not befitting of a leader.
Souny West, founder and CEO of CHiC Capital, says she looks at participation in office gossip when considering people for promotion:
"The qualities we considered most were integrity and trustworthiness—which we measured by looking at who chose not to participate in office politics and gossip. Individuals who are able to rise above the temptations stand out most as those I think would be the fairest to others in management roles."
And there you have it. A solid set of rules to live by if you're serious about moving up into management. And a few valuable words of wisdom from people who started out at the bottom, and steadily climbed into heavyweight business roles.
Learn more about Business Management training
Herzing College Ottawa offers a comprehensive 12-month Business Management program. We prepare students to become team leaders, supervisors, and office managers. Training includes a 4-week internship so you graduate with real work experience.
Chat live with an Admissions Advisor to learn more. Or click below to explore the program and get more information. We're here to help!