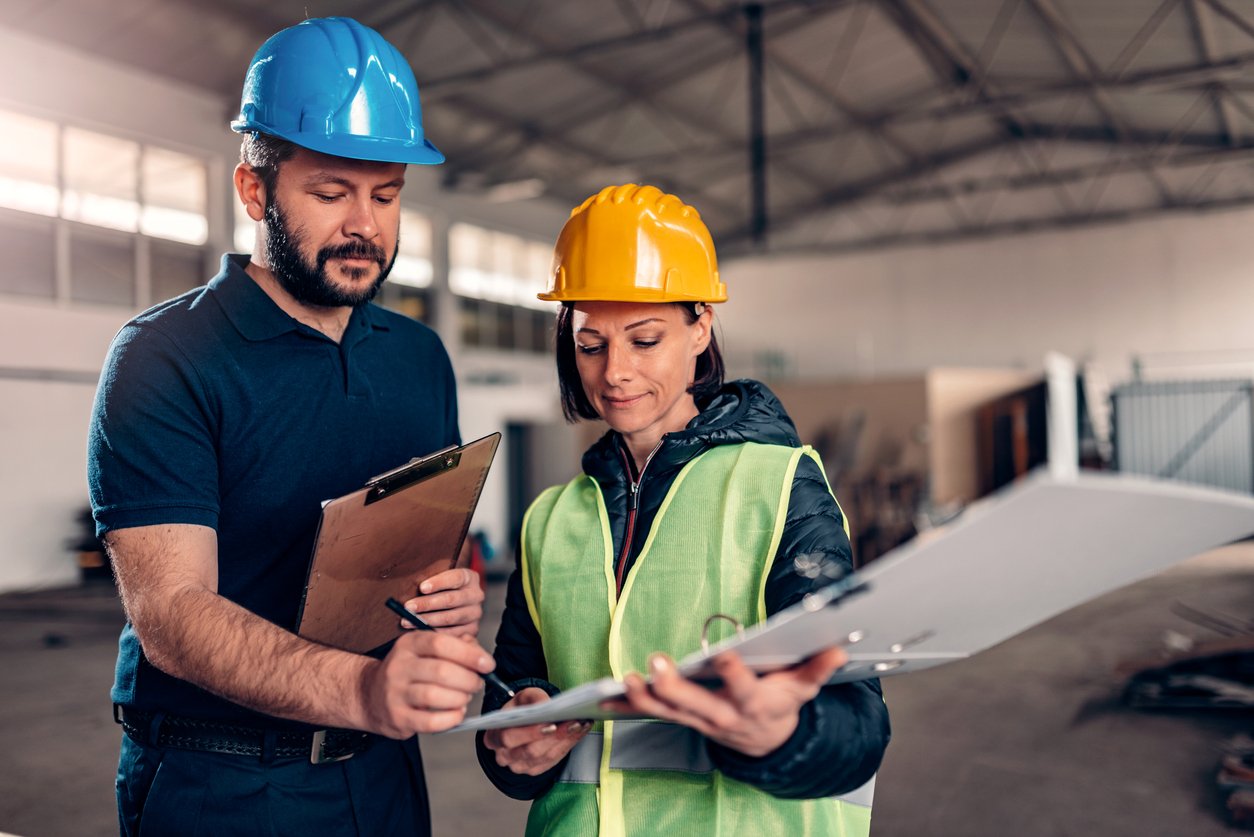 Considering becoming a health and safety officer? These professionals play a key role in preventing workplace accidents, injuries, and deaths.
Every employer in Canada must follow health and safety laws to ensure workers are protected while performing their duties.
Health and safety officers help enforce these laws by performing audits and inspections. They also work closely with companies to identify risks, deliver safety training, and investigate accidents.
If you want to work in this field, you need comprehensive training that leads to national certification by the Board of Canadian Registered Safety Professionals (BCRSP).
Your first step? Selecting a quality health and safety training program.
A diploma in occupational health and safety is an excellent alternative to a 4-year university degree. You do not need a degree to begin a career in this field.
But what exactly should you look for in a quality diploma or certificate program? Begin by ensuring the training you select has these 5 key features.
1. Approved by the Board of Canadian Registered Safety Professionals (BCRSP)
This is the most important element to look for when comparing health and safety programs. The Board of Canadian Registered Safety Professionals (BCRSP) is the most important, non-profit occupational health and safety organization in Canada.
If your training program is approved by the BCRSP, graduates can apply for the Canadian Registered Safety Technician (CRST) Certification.
You can challenge the exam immediately after graduation and get certified.
The CRST is recognized and respected across the country, and is a mandatory requirement for many health and safety jobs.
Plus, once you have your CRST, you can begin working toward the next level of certification: the Canadian Registered Safety Professional (CRSP) Certification.
You need just 4 years of work experience to become a CRSP.
Bottom line? If you want a competitive edge, you need BCRSP-approved health and safety training that leads to these 2 certifications.
2. Expert Instructor with Years of health and Safety Experience
Getting companies to implement new health and safety programs is not easy. Many employers and workers are skeptical of change, and reluctant to accept new approaches—even if it means reducing the risk of accidents.
This is not an easy role to break into. This is why you need an instructor with a proven track record, who has worked in various roles, in different parts of the workplace safety industry.
You need that "inside" knowledge to prepare for the challenges ahead. An expert instructor will share advice and first-hand experience that will be crucial to your success at work.
When comparing health and safety programs, be sure to ask who teaches the course. Inquire about their professional background, which companies they've worked for, and what positions they've held.
Andrew Pugachev is an instructor for the Occupational Health and Safety Officer program at Herzing College. He teaches the online version of the training.
Andrew is a good example of a seasoned professional who brings a wealth of real experience to the classroom.
Learn more about his background, and see the kind of experience to look for when evaluating instructors:
Read: Andrew Pugachev Answers Your Questions About Health and Safety Training
3. Make sure the health and safety Program comes with an internship
If you're new to the health and safety field, and don't have any related experience on your resume, an internship is crucial for getting your foot in the door.
Not all certificates and programs come with a guaranteed work placement. Ensure the health and safety program you choose gives you the chance to work at a local company before you graduate.
You need this workplace experience to apply and strengthen the skills you've learned in class. It's a good way to gain confidence and make industry contacts.
Plus, internships are often recruiting tools for companies looking to hire up-and-coming safety officers. This could be your chance to get noticed—and get hired—after completing the training.
"Our internship program has seen placement for students within construction, manufacturing, trucking and safety auditing organizations. Grads are getting hired straight out of their internships, which is excellent."
- Andrew Pugachev, Health & Safety Instructor, Herzing College
4. Accelerated format that gets you to work faster
Most students are looking to complete their training and get into the workforce as quickly as possible. You don't want to compromise on the quality of your health and safety program, but if possible, you would rather not spend extra time in school.
If this is the case, an accelerated health and safety certificate or diploma is ideal.
Most accelerated programs can be completed in just one year. There is more emphasis on practical, work-ready skills—and less time spent studying theory and law.
The goal of accelerated health and safety training is to prepare students for entry-level roles. Once in the workplace, you will build skills through experience, earn your certifications, and qualify for more advanced positions.
Not interested in an accelerated program? There are part-time health and safety programs you can complete at a slower pace. Just make sure they meet the other criteria on this list.
5. An option for online training
At least 50% of our students across Canada study online. The popularity of online college programs has skyrocketed in recent years. Health and safety training is no exception.
If you need to work while you study, or have a family to look after, online learning can make the difference between getting your diploma, and never going back to school at all.
If you're looking for flexibility, choose a health and safety program with an online learning option.
Just remember: Ensure the online version still comes with an internship. The curriculum should be no different than the on-campus program.
A few other points to keep in mind...
In addition to the features we've already covered, there are a few other things to consider when choosing a quality health and safety program.
You will find that available programs don't vary too much in terms of courses and core skills. But there are other key factors that do vary from school to school. These include:
☑️ Admissions services, such as career guidance and help finding the best financial aid solutions
☑️ Campus culture and atmosphere
☑️ Classroom facilities
☑️ Graduate employment rates
☑️ Career support, such as help with your resume, cover letter, interview prep, and job search
The best way to find the right fit? Meet with an admissions advisor. And if possible, visit the campus in person.
This is the only way to verify that the health and safety program meets high standards of quality—and ensure the school itself offers important support services you'll need to be successful in your new career.
Click below to explore the Occupational Health and Safety program at Herzing College. Our advisors are available to chat online or meet in person on campus.
Get your questions answered and find out if this training is right for you. We're here to help!