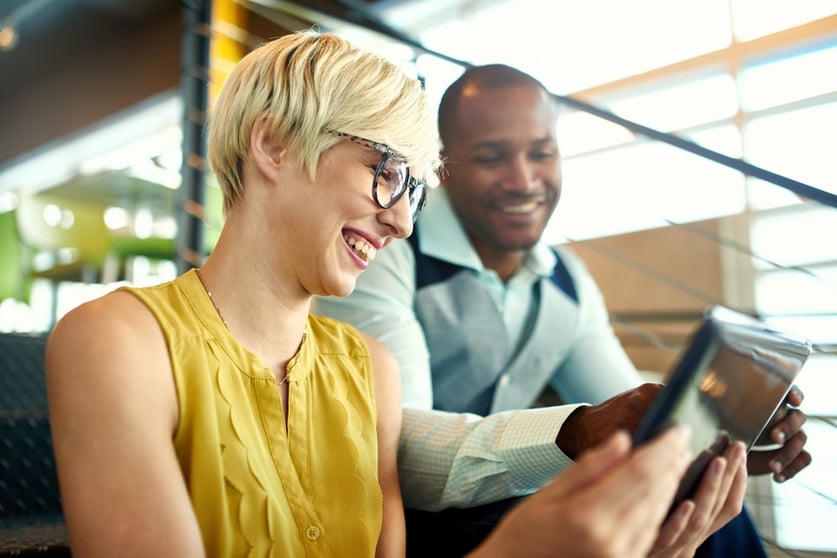 Looking at your social media channels and wondering what new ideas you should be pursuing next year? Noticing that certain tried and true tactics just aren't producing the results they once did?
Feel you need to "up" your game, introduce more relevant content, and do more to engage and attract audiences? You're not alone.
Everyone is looking to capitalize on new social media tools, stay ahead of the competition, and feed the insatiable appetites of a growing global audience.
Where to begin? With so many options and ideas, it's easy to feel overwhelmed—and begin creating new content just for the sake of it—without a clear idea of how it fits with your brand, business goals, and audience preferences.
To help simplify things, we looked at industry leaders—like the Digital Marketing Institute, Smart Insights, Hootsuite, and Sprout Social—to compare their suggestions for creating fresher, more impactful social media content.
These are 4 of the biggest takeaways for business owners and marketing professionals. If you're looking to hold on to your fans and followers, and attract new audiences, consider trying out one (or more) of these tactics in 2018.
1. Fully embrace video
The meteoric rise of video on social media has been swift and powerful over the last few years. Videos have been proven to generate more likes, comments, shares, click-throughs, and conversions than other forms of content—particularly on Facebook.
Not convinced? Here are a few statistics to consider about the enormormous demand for video on social media:
Video posts enjoy 135% more organic reach than photo posts (Source: Social Bakers)
Video consumption on YouTube rises by 100% every year (Source: HubSpot)
Social videos generate 1200% more shares than text and images combined (Source: SmallBizTrends)
Businesses that use video get 41% more traffic from search than those who don't use video (Source: SmallBizTrends)
43% of people want to see more video content from marketers (Source: HubSpot)
Which social media platforms are leading the way right now in terms of video content?
Digital Marketing Institute highlights Instagram Stories as the rising new video star of 2018. Over 200 million people use Instagram Stories each month—50 million more than Snapchat, and Stories is only one year old!
If you're looking to connect better on Instagram (specifically with millennials and Gen Z), you'll need to get comfortable using the Stories feature.
2. Include live streaming in your social strategy
Already doing a lot of video marketing and looking for a fresh take on this approach? Add live-streaming to your social media content strategy in 2018.
Research shows that people spend three times longer watching live video than they do video that is no longer live.
Millennials ages 14-25 spend more time streaming video content than watching live television.
Audiences are fascinated with real-time experiences and stories—and want more of them in 2018. Simply streaming an event (versus recording and sharing it later) can significantly increase engagement.
Look for ways to use tools like Periscope, Facebook Live, and the new YouTube Connect to include live streaming in your social strategy for next year.
3. Harness the power of "expert" influencers on social media
This is much easier said than done—but building relationships with influencers is still crucial for attracting audiences and converting customers via social media.
Influencer marketing is not new, and for that reason, has gotten considerably harder to do successfully. Your audience is very well aware that brands pay highly visible and popular individuals to promote products and services on social media—and have become less willing to trust those endorsements.
Smart Insights warns companies to choose the influencers they partner with very carefully, and to favour genuine expertise over mere popularity. According to their research, the move toward "expert" influencers is growing, as a way of addressing audience's mistrust of paid—and presumably fake— endorsements.
Smart Insights lays out the following advice for brands seeking to harness the power of influencers on social media in 2018:
"You will need to set clear objectives of why you are wanting to work with influencers and consider whether or not they will help deliver the best ROI. Know who your audience regard as influential and build solid relationships with them."
4.Get serious about defining your social media goals
That last piece of advice from Smart Insights speaks to the absolutely crucial need to define clear, measureable goals for every new initiative you launch on social.
It's very tempting to jump in, and begin trying out every new feature, tool, and platform that crops up. But before you set up that live video stream, join that new social network, or begin working on your latest story-telling video, consider how it will support your overall marketing and business goals:
What are you hoping to achieve this coming year on social?
How many new fans and followers do you want to attract?
Are you focussing on reach, brand awareness, engagement, lead generation?
Do you need to target a specific demographic more effectively?
Are you trying to change your image or re-brand?
Mapping out goals, and ensuring each new piece of content aligns with those objectives, is step number one to creating a more competitive, nuanced, and effectively targeted social media strategy in 2018.
Looking to strengthen your social media skills with professional digital marketing training? Considering pursuing an online digital marketing certificate with an emphasis on social media?
Take a look at the Social Media and Digital Marketing Certificate offered by Kompass Professional Development.
Click below to browse a detailed list of online digital marketing courses include in the certificate, meet the instructor, see tuition rates—or chat live with an advisor. We're here to help!