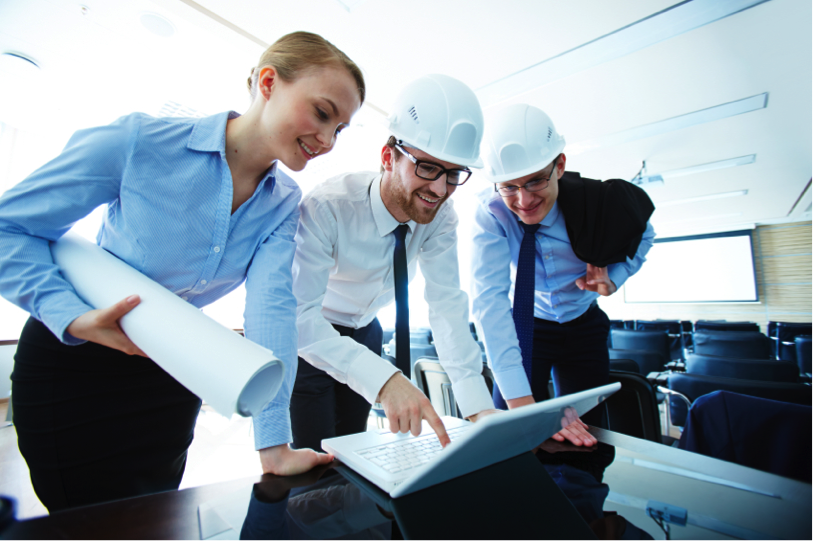 Many construction firms rely heavily on paper-based construction management, which admittedly, involves a lot of time and effort to file. Group emails, which travel back and forth between different staff members and different companies, can be a lot for construction office managers to keep up with as well.
Today, there are several types of construction management software available on the market, whose aim is to streamline all of these processes into one convenient program. Using construction management software not only saves construction professionals time, it minimizes costs and increases project efficiency and accountability.
Let's take a look at a few of the top-reviewed construction management software programs out there, and how they might be used by construction graduates.
BuildTools Construction Mgmt Simplifies Communication and Scheduling
One exciting component of a construction office manager career is organizing and directing different departments during a project. That being said, maintaining communication with builders, clients, architects and subcontractors during a project can get overwhelming, which is why BuildTools was built to make this process a lot easier. One of the program's primary functions is to centralize all communication in one place so that all documents, photos and management updates can be easily accessed by anyone.
Another great feature is that it has a simplified scheduling system for employees and subcontractors, to help you get things done more quickly and efficiently.
SiteMAX Has Your Construction Site Covered
SiteMAX is simple to use, and has a feature for almost every task involved in construction office manager training! It is web and mobile-based, so anyone involved in a particular project can log on and see updates in real time. This engaging software offers:
Digital timecards
File system for drawings, photos, safety forms, etc.
Digital Purchase Orders
Geolocation Check-ins
HDTV real-time project view
Tool inventory tracking
24hr weather updates
Instant messaging
And the list goes on. SiteMAX systems, the company that designed the software, also offers in-person or webinar training for your team so everyone can become proficient!
Relatics is Adaptable to your Construction Project Needs
Another collaboration focused software, Relatics is also web-based and can be accessed from anyone's workstation, or from smart devices while on-site. It features the bells & whistles of simplified project management software, such as a place to store and easily manage all your documents including photos, timesheets and spreadsheets.
A key feature is in the simplicity of the program design. The maker's philosophy is that everyone involved in the project should have access to using the software – not just a few specialists. It is also designed to be flexible and intuitive, which accommodates the frequent changes that occur as construction projects move forward.
This software is designed to be used without any training, which makes it a great choice for newcomers who have just recently earned their construction office manager diploma!
Do you know of any other great construction management software programs that we might have missed?