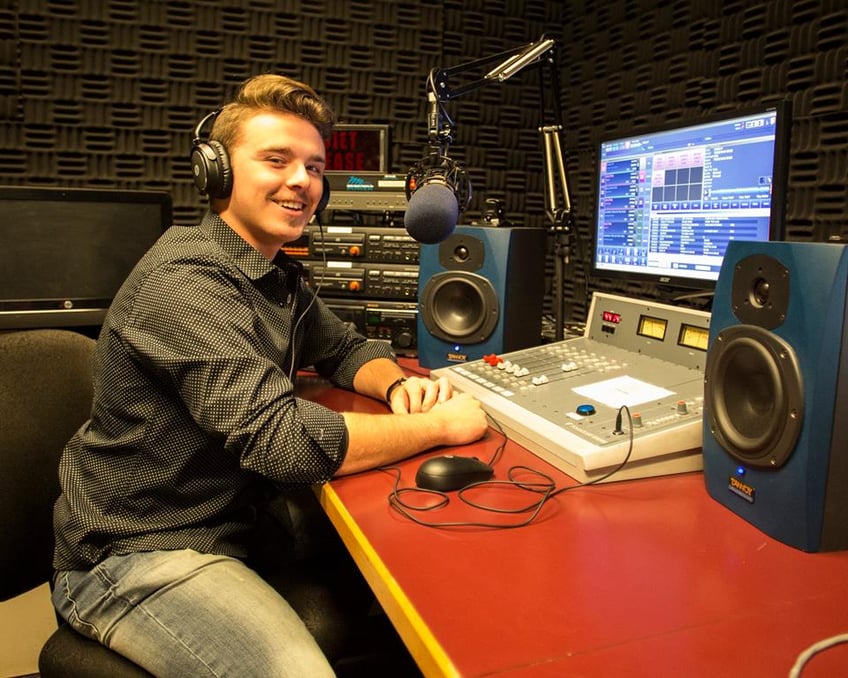 A radio/TV broadcasting student at Herzing College Winnipeg in the radio studio
Some students are drawn to broadcasting training because they want to get in front of the camera or microphone. Others are passionate about behind-the-scenes work like writing, producing, promotion, editing, and research. Career paths in radio and television can be both creative and technical, and encompass a fairly wide range of occupations within the industry.
In this post, we look at how radio/TV broadcaster colleges equip students with the skills needed to get started in broadcasting, and secure entry-level positions at TV or radio stations. You'll find details on typical coursework covered in diploma programs, plus the various career paths students may pursue after graduation.
Broadcasting Diploma Curriculum: What Skills Will You Graduate With?
In order to prepare students with the general knowledge they'll need to break into the business (and perhaps identify a particular area of interest), radio and TV broadcasting courses must cover a lot of ground. Topics range from an overview of today's media industry to the specifics of camera operation, writing, producing, and announcing for news stories, documentaries, investigative reports, entertainment shows, and more.
Most diploma programs in radio/TV broadcasting allow students to choose between radio or television as a specialization, and focus on developing projects and building knowledge in that area. Training usually take between 9-12 months to complete, includes an internship, and features coursework in the following areas:
Audio Production: digital audio editing, studio console operation, special effects, and instruction on an industry-standard audio recording/editing software (such as Adobe Audition)
Video Production: TV production for both in-studio and on-location, lighting and sound, camera operation, and editing using standard software (such as Final Cut/Adobe Premier)
Broadcast Writing/Reporting: writing for a range of purposes, including advertisements, news stories, sports, interviews—and techniques for journalistic reporting and interviewing
TV/Radio Sales & Marketing: developing an effective marketing strategy for generating sales revenue, making sales pitches, approaching clients, and developing on-air contests
Media Projects: applying skills and knowlege to create a professional demo reel, which will be used to help secure employment after graduation
Career Paths in Television & Radio: From Entry-Level to Advanced
Veteran television director, Dave Olsen, advises recent grads of radio/TV broadcaster colleges to keep an open mind when searching for that first job. He points out that the diverse skills learned in training can lead to unexpected career opportunities within the field of broadcasting.
Olsen says, "it's a good idea to keep your options open. Many people find that they end up with a very different job to the one they had originally wanted. This is one advantage of beginning your training with a general media studies course - it will give you a good grounding in many different disciplines and may help you decide which you prefer." (see the full Olsen article here)
The first jobs graduates land in television or radio are almost always support roles. This is where they build experience, continue adding to their demos, and position themselves to move into more senior positions at the same company. Common entry level positions include:
production assistant (perhaps freelancing with several different production companies)
junior copywriter, researcher, or editor
junior camera operator
sales representative
marketing and promotions assistant (with a strong focus on social media)
Intermediate and advanced positions graduates can work toward in radio and TV broadcasting include:
anchor, presenter, news reporter, on-air host
producer
board operator
operations manager
programming director
brand manager
camera operator
senior researcher/writer
Interested in learning more about getting started in the entertainment business? Looking for a reputable TV and radio broadcasting school in Winnipeg?
Consider Herzing College's Radio and Television Broadcaster program, available exclusively at the Winnipeg campus. Training takes just 9 months to complete, covers all relevant areas of both television and radio broadcasting, and includes a 4-week internship. Visit the program page for more information, or to chat live with a knowledgeable advisor. We're here to help!