Personal Support Worker students pose for a class photo at Herzing College Ottawa
It's an excellent time to become a personal support worker (PSW) in Ontario. Demand is high for PSWs all across the province—and expected to stay that way for the foreseeable future.
Our rapidly aging population (and shrinking health care resources) is the key driver for growth in this field.
Personal support workers are needed at hospitals, nursing homes, and private home-care companies throughout Ontario. They play an absolutely crucial role in caring for clients who need help with the tasks of everyday living—including those with cognitive impairment, physical disability, and mental health challenges.
PSWs offer the kind of ongoing support nurses and even family members can't always provide. They help with everyday tasks, like grooming, meal preparation, and mobility. But PSWs also assist with medication reminders, exercise, social activities, household management, and emotional support.
Because of personal support workers, seniors can live more independent, safe, and healthy lives. They can stay in their own homes for longer, and get one-on-on companionship and care while in long-term care facilities.
There is no doubt that PSWs are an increasingly importance part of Ontario's health care system. So, if you're considering starting a career in this field, you're on the right track!
But your first step is to find a trustworthy personal support worker college that will fully prepare you for life on-the-job. There are many PSW colleges in Ottawa—which one should you choose, and what factors should you consider when narrowing down your options?
These are the 6 key features to look for when making your final decision. Find a college that fits these criteria, and you'll be well on your way to a successful career as a personal support worker.
1. The College follows NACC Training Standards
for Personal support workers
This is a basic requirement for any quality personal support worker college. You want a school that is accredited by the NACC (National Association of Career Colleges), and follows their National Training Standard for Personal Support Workers (released in 2014).
The NACC PSW Program sets strict standards for training, which ensure students graduate with the professional skills today's employers are looking for. When you're comparing schools, look for mention of accreditation on the website—or ask about it when you're talking with Admissions.
2. PSW Instructors Who Are Experienced, Certified Health Care Professionals
Ideally, you want to learn from someone who has actually worked as a personal support worker. That way, you will benefit from their first-hand experience in the field, and be better prepared for your first job after college.
The best PSW programs hire instructors with many years of professional experience, who have also earned recognized health care certifications. For example, at Herzing College, the Personal Support Worker program is taught by Alanna Dundon—a Registered Practical Nurse who started off as a personal support worker, and has 10+ years of experience in the health care industry.
Alanna understands the real challenges of caring for seniors, and exactly how to prepare students for those challenges. Look for a personal support worker college that hires experienced, passionate instructors—and you'll find quality PSW training you can trust.
3. A Closely Supervised Personal Support Worker Internship
Until you have completed an internship, you will not be prepared to start work as a personal support worker. The practicum is a crucial part of personal support worker training, where students get the chance to apply everything they've learned in a real clinical setting.
This usually involved interning at a long term care facility, seniors' home—or both. Students should be closely supervised by their PSW instructor, so they can learn best practices in patient care, and build their confidence as new personal support workers.
You can expect the internship to run for at least a couple of months. At the beginning, you'll just be observing, slowly taking on more responsibility over time. By the end, you will have your own clients to care for, and be working in a clinical environment 5 days per week.
PSW graduate, Pauline Hughes-Derome explains how the internship works at Herzing College:
"Right now, I'm working until 3:00 pm, 3 days a week. I have 5 clients to look after. But moving into the last stage of my internship, I will increase to 5 days a week, and be responsible for 8 clients.

And after my placement at Hillel Lodge is complete, I'll do another internship at a seniors home, where the clients are more mobile and independent. This will give me additional work experience in a different kind of setting. I'm really looking forward to it!"
Extensive on-the-job training is a key feature of a quality personal support worker college. Be sure to ask about the internship at any school you're considering. At Herzing, the PSW internship runs for 11 weeks, and consists of more than 200 hours of professional practice.
Read the full interview with Pauline to learn more about her journey through the PSW Program: Meet Pauline: How Becoming a Personal Support Worker Changed My Life
4. A High Graduate Employment Rate for the Personal Support Worker Program
Another very simple way to judge the quality of a PSW program is to look at its graduate employment rates. How many students actually get hired after completing the training?
This statistic will tell you two key things:
1. How well the training prepares students for the work force
2. Whether local employers really trust the PSW program
You should find graduate employment rates listed clearly on the school website. At Herzing, we're very proud to report that in 2018, a full 100% of our available PSW grads were employed in a related field (statistic based on most recent available).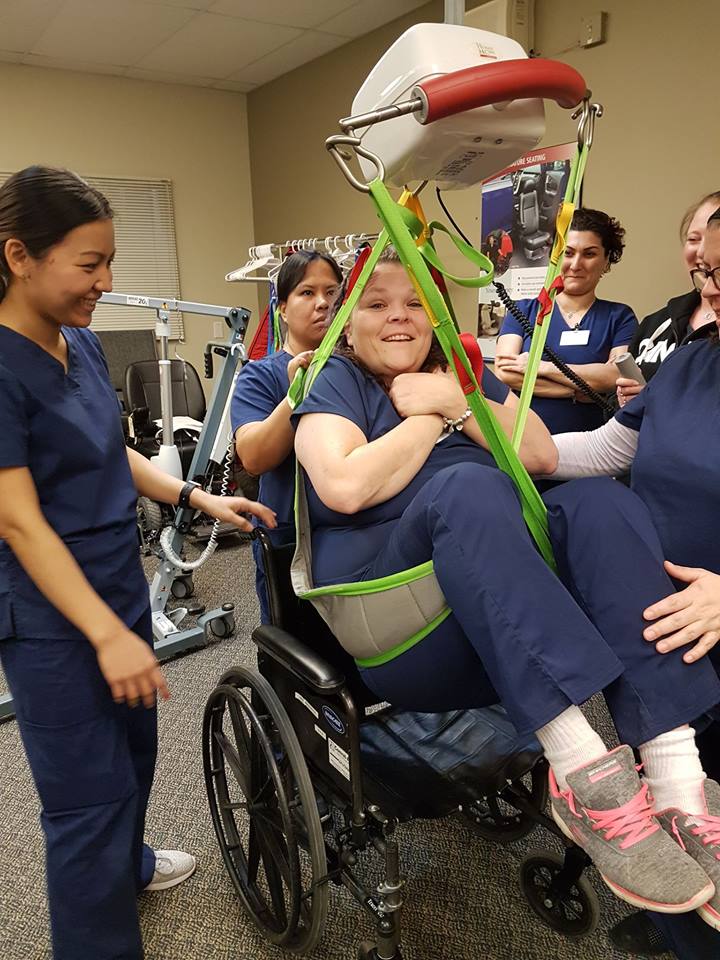 Personal Support Worker students learning how to use lifts for moving patients with mobility issues
5. Positive Reviews from PSW Program Grads
Ask around. Do you know someone who has taken the PSW program at the college you're considering? What is their opinion of the instructor, curriculum, learning environment, and internship?
Check out the school website and social media channels for student reviews. You could even ask local seniors' homes and long term care facilities about the colleges they hire from—and which ones are the most reputable.
Do your homework, and gather advice and personal experiences from people in the field.
6. A Helpful Admissions Team
Once you've narrowed it down to a few PSW colleges, be sure to visit each campus, and meet privately with an Admissions Advisor.
During your advising appointment, you'll get the chance to ask questions about the program— and possibly even meet the instructor, or drop in on a class. You can talk about graduate employment rates, what it takes to be successful in the program (and career), and where you can expect to get hired after graduation.
It's also the perfect time to discuss tuition, financial aid options, and walk through the entire application process. The Advisor is there to make this easier. And to help you confirm whether PSW training is truly right for you.
After you've met with Admissions at every PSW college you're considering, you'll have a clear idea which school is your best bet. Plus, you'll have a clear road map on how to get started.
Learn More About Personal Support Worker Training at Herzing College Ottawa
Herzing College Ottawa offers an accelerated Personal Support Worker program that runs for 8 months, including an 11-week internship, and certificates in First Aid and CPR.
Our training features small class sizes, with students from all age groups and backgrounds. Our program is accredited by the NACC and based on the highest standards for PSW programs in Ontario.
If you're interested in learning more, your next step is to fill out the Request Information form on this screen, to get complete program details by email. An Admissions Advisor will get in touch to offer guidance and support.
Or, you can click below to browse the PSW program for yourself, and chat live with an Admissions Advisor right now. We're here to help!