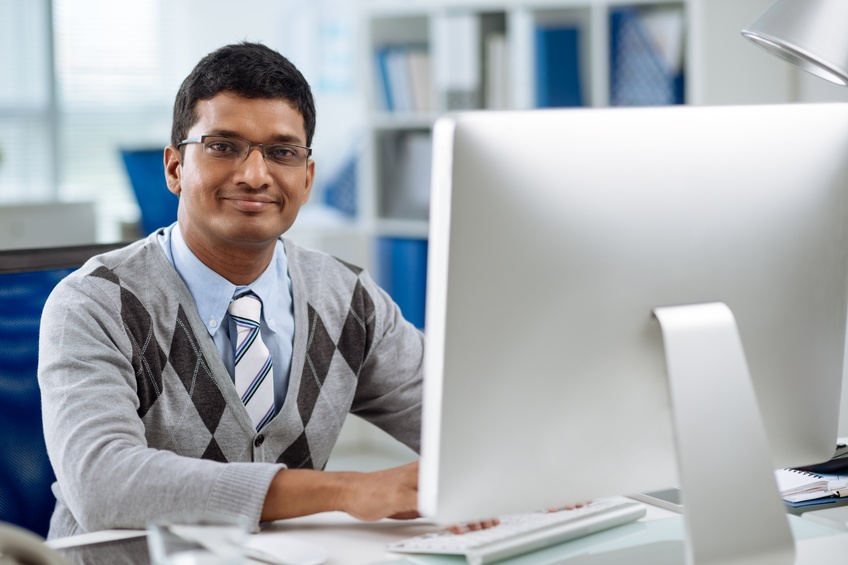 This is an excellent time to start a career as a network technician or administrator. Computer networking professionals are in demand all across Quebec, and throughout Canada.
In fact, the Government of Canada Job Bank awarded "computer network technician" its highest rating for demand in Montreal—3 stars. This rating holds true all across the province.
Wages are competitive, growth is good, and opportunities for new networking graduates are strong.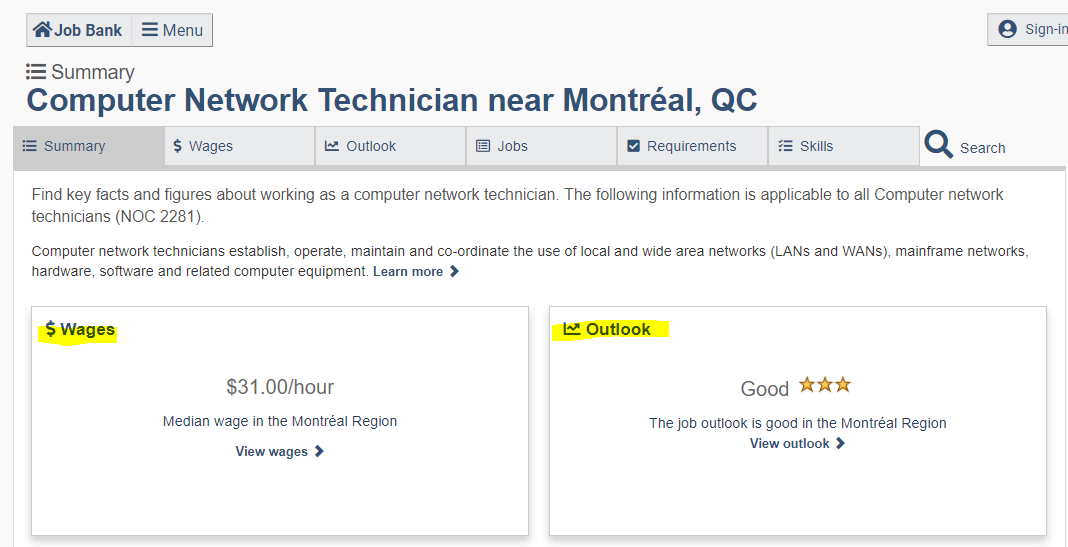 Job outlook for Computer Network Technicians in Montreal (source: Government of Canada Job Bank)
So, the only question remaining is where should you begin your computer networking training. Which school can you trust to give you a strong start in this field?
We've got you covered. These are the 5 clear signs of quality you should look for when comparing colleges, and choosing the best network technician program where you live. Let's get started.
1. Comprehensive computer networking curriculum
Obviously, curriculum is king when it comes to choosing a networking program. Success in the industry often depends on certifications—globally recognized credentials that prove your knowledge and competence in computer networking technology.
Specifically, you want a program that prepares you to successfully challenge exams such as:
CompTIA A+

Network+

CCNA

MCSA

CompTIA Cloud Essentials

CompTIA Linux+
These are the certifications employers want to see on your resume. They demonstrate you have today's most-wanted skills in key areas, like:
Installing, configuring, and maintaining microcomputers and common operating systems

Cloud technology

Installing, managing and troubleshooting LANs and WANs

Hardware and software installation and troubleshooting

Network security

Virtualization

Training end users
Take a close look at the networking program description and course list. Ensure the curriculum includes all the skills you'll need to land an entry-level networking job, straight out of college.
Important: Check to confirm the network technician program comes with an internship. Getting some real work experience before graduation is key for breaking into the IT industry.
2. High Graduate Employment Rates
This is one of the most important things to look for when comparing network technician colleges. Graduate employment rates tell you how many students actually got hired after taking the training.
This number is key, because it reflects the quality of the program, and confirms whether local employers have enough faith in the school to hire its graduates.
If your goal is to find work as a network technician or administrator, straight out of training, you need to ask about employment rates at every college you're considering. The higher the rate, the better the training.
At Herzing, we're very proud to report 100% employment rates for our Microcomputer & Networking System Technology Program (statistics based on most recent available for 2018/2019).
It's simple. High graduate employment rates mean trustworthy training.
3. Effective Career Support Services
If graduate employment rates are high, chances are, the college also has a good career development team. It can be difficult to break into a brand new field with little or no experience—even if you've just completed an excellent training program.
So, you need to choose a school that really works hard to support students who are nearing graduation, and trying to land that first job. Ask about things like resume-writing, mock interviews, and whether the school has partnerships with local employers, which can help you get hired.
This is something you can inquire about when you're speaking with admissions, and learning about the network technician program. A quality college goes beyond classroom instruction, and ensures you have the support you need to go straight from student to employed IT professional.
Related: 9 Computer Networking Terms to Know Before You Start Training
4. Genuinely Helpful Admissions Team
Looking for a college with a supportive atmosphere? A place where you'll feel encouraged, learn from experienced professionals, and get a competitive edge in your new career?
It all starts with the admissions experience. When you're researching networking schools, be sure to reach out directly to admissions. Whether it's online or over the phone, take the time to speak with a staff member about things like:
the networking instructor's background
Important: Don't forget to book a campus tour, or ask to sit-in on a computer networking class. This is your chance to check out the facilities, explore the campus, and see if it feels like a good fit. Admissions should be able to arrange everything for you.
5. Positive overall reputation (good reviews)
And last, but not least, look at the college's reputation overall. Does this school come recommended? Are there positive reviews online from students and alumni? How long has the institution been operating in your community?
You want to see a good track record of performance, because that will enhance the value of your computer networking diploma. Take some time to scroll through the school's social media channels, and read feedback from the student community.
Reach out to people who have taken the network technician training, and learn about their experience. See if you can visit the classroom and talk with the instructor. The more information you gather, the more confident you'll feel in your decision.
Bottom line: Education is the most important investment you'll even make. Take your time, and cover all the bases, so you choose a networking program that really pays off.
Learn more about computer networking training at Herzing
Herzing College Montreal offers an accelerated Microcomputer & Networking Systems Technology program. The program is 15.5 months long and includes a 12-week internship.
Our graduates are qualified to work as Network Technicians, Network Administrators, and Technical Support Specialists. Click below to browse the program, learn about certifications, and see a detailed course list.
You can request free information by email, or chat live with an Admissions Advisor right now. We're here to help!