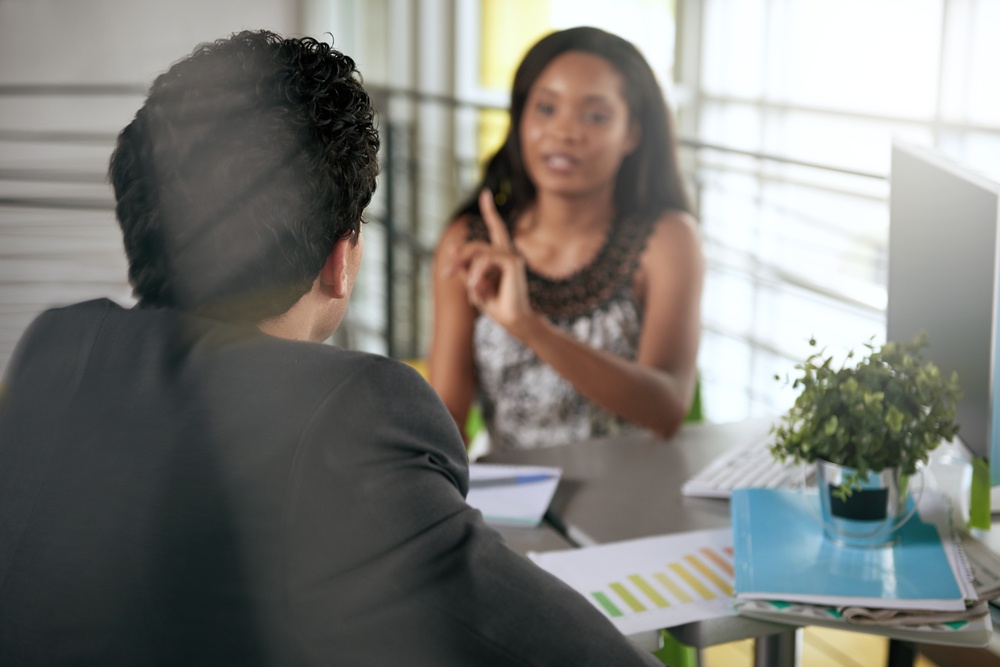 Studying business management with the dream of one day running an office, supervising a team, or starting your own company?
What do you imagine will be the most challenging part of becoming a successful leader? Making good strategic decisions, staying on top of deadlines, delivering positive results for clients? Or will it be building positive relationships with the people you manage.
Attracting and hiring talented staff, and inspiring them to stick around and perform at their best, is one the toughest challenges for business managers.
You'll need to prove you are worthy of respect, help your team members develop and grow, and most importantly, you'll need to deal with rebellious or disrespectful staff swiftly and effectively.
How would you handle an employee who questions your authority and doesn't always follow the rules? It's not as simple as you may think.
Remember these 4 strategies as you wrap up your business training and head out into the competitive, complex, wonderful world of management.
1. Nip it in the Bud: Don't turn a blind eye to habitual disrespect
Rule number one of effective office management is to never ignore a rude employee, and simply hope the problem goes away by itself. It's true that you don't need to fight every battle, and could possibly overlook a small transgression now and then—everyone has a bad day, right?
However, repeat bad behavior and consistent lack of respect must be nipped in the bud and addressed as soon as possible. In many scenarios, a rebellious team member may simply be testing your authority. Perhaps you are new to the manager role, and the individual wants to see how far they can push you—and if you're willing to push back.
But if you're going to intervene, it's important to get it right. You should never stoop to the level of insults or threaten termination right out of the gate. You need to gain the upper hand by demonstrating the professionalism, confidence, and people management skills you learned in business training.
Let's take a look at some good techniques for confronting a staff member who is out of line.
2. Focus on the rules being broken, not personality or character
When confronting a disrespectful employee, always take them aside for a private meeting, rather than calling them out in front of other team members—or even worse, clients.
Instead of hurling accusations and attacking their character, focus on the specific rules they have broken. Do they constantly arrive late, don't complete work as assigned, or refuse to collaborate with the rest of the team? Have they been rude to customers?
Carefully prepare for the meeting in advance by noting down the established office rules the individual has broken, so you can approach the intervention from a professional standpoint. By addressing these problems, you are simply doing your job as manager. It's not personal; it's procedural.
By refusing to play by the rules—which ideally, were clearly explained during the hiring process—the unruly employee is disrupting office operations. When an office doesn't run smoothly, the entire business suffers.
3. Listen carefully to grievances: Good managers solicit feedback & opinions
While you're meeting with your rebellious staff member, ensure you create opportunities for them to speak up and explain why they are behaving poorly.
Ask leading, open questions to get to the heart of the issue, like:
Are you happy here in your current role?
How do you think we could improve things around here?
Do you see yourself staying on with the company, and if so, what kind of position to you hope to achieve?
Conflict in the workplace does not come out of nowhere. There is a root to the problem, and part of your role as manager is to find that root, and evaluate whether it's a problem you can solve (or if it's time for the employee to move on).
Countless research studies (see here and here) have revealed that the top reason employees quit is because they don't feel listened to, valued, or taken seriously at work.
Related: 5 Mistakes Most New Business Managers Make (& How to Avoid Them
Your "rude" staff member may simply be unhappy with her situation at work, and wants to discuss the situation with a manager who cares enough to listen. By truly caring and finding common ground, you can turn a disrespectful employee into your star player.
4. Don't Take it Personally & Be Firm When Necessary
One of the most important things to remember when dealing with a difficult team member is to remain objective. Don't take the rudeness personally. If you are doing a good job as manager, and treating your team with respect, you cannot be held responsible for someone else's unprofessional behavior.
It is, however, your responsibility to get to the bottom of the issue with smart strategies and leadership skills. Look for opportunities to flip the script with open communication and positive solutions.
Make it clear that you value your team's opinions and genuinely want to work with them to create a place where everyone feels fulfilled.
And when all else fails, and your employee insists on working against you, follow company procedures for terminating their employment agreement.
Stay professional, show diplomacy, and be firm when you have to. These are the qualities of successful business leaders.
Planning a career in management and want to learn more about college-level business management training? Looking for a top-rated business college in Ottawa?
We welcome you to fill out the Request Information form at the top right of this page. Get free information about Herzing College's Business Management Diploma, including courses, career options, admission requirements, program length, and more.
Or, use the chat window on this screen to speak live with an Admissions Advisor. We're here to help.