Business students pose for a photo at Herzing College Ottawa
"For some young adults and mature learners, universities are the ideal option. For others, they can be an expensive waste of time, money and effort."
Wise words from education expert Ken Coates, co-author of the book, "What to Consider When You are Considering University" (Dundurn, 2014).
If you're weighing your options after high school (or want to change careers a bit later in life), a four-year university degree may not be your ideal route to success.
For many Canadians, career college offers a much shorter, more practical alternative to getting job-ready quickly. It all depends on your priorities and interests. Not sure which path to take?
Here are four of the top reasons students choose career college over university, and some expert advice for making your own decision.
Career College is More Affordable than university
The average student in Canada graduates from a three or four-year university program with $25,000 in debt.
A volatile economy and fast-changing hiring trends make paying back that debt particularly difficult. It can easily take decades to repay student loans, and in the meantime, some students must return to school to train for more in-demand jobs.
Short, relatively inexpensive career college programs offer an attractive alternative to students who want to avoid the debt-crunch.
Career training prepares students for entry-level positions in a range of occupations, where they can earn promotions and keep learning through professional development—all while still earning a reliable paycheck.
Decision-making Tips
☑️ Compare the costs of a degree versus a diploma in your chosen field. Do you really need a four-year degree to start your career?
☑️ Are you comfortable taking on a large student loan to attend university? Is there enough demand in your field to find employment right after graduation, and repay the loan quickly?
Career Training Focuses on Getting Students Job-ready Fast
The best career colleges carefully track job trends across industries, and tailor their programs to match that demand. They will not offer a diploma program if there is zero demand in that particular field.
Career programs are updated often to ensure students learn the latest technologies, theory, and practical skills. Many college diplomas include internships to help students gain work experience before graduation.
And since career training rarely exceeds 12 months, this is definitely the best option for students who want to enter the job market quickly—rather than waiting three or four years to finish a university degree (which may not include an internship).
Recent data from Statistics Canada confirms that securing reliable employment is the top motivator for students who choose career colleges: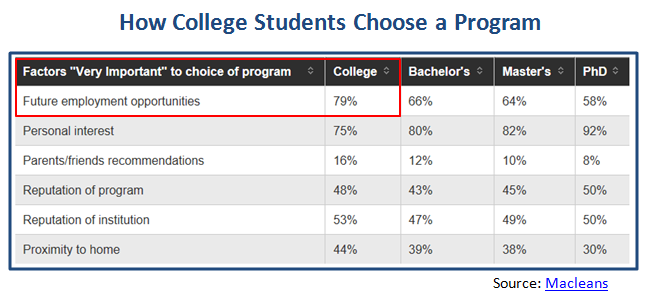 Decision-making Tips
☑️ If you're not sure which training program to choose, book an appointment with a college advisor. They will look at your skills, interests, and career goals to help you narrow down options.

☑️ Do some research online to understand which careers are growing right now, and whether there will be jobs in your chosen field after graduation. The Canada Job Bank is a good place to start. Use their Career Outlook Tool to see employment trends in your province.
Career Colleges Have Small Class Sizes with Hands-on Learning
Not sure you want to learn with 200 other students in a crowded lecture hall? If you prefer hands-on learning in a small class environment, career college is your best bet.
Because career training focuses on teaching practical skills, and ensuring students get experience applying those skills, the approach is almost always hands-on.
Class sizes are kept small on purpose to allow each student to practice on key equipment, get personalized help from instructors, and collaborate in small groups with their classmates. As a result, the atmosphere is friendly, encouraging, and non-intimidating.
Decision-making Tip
☑️ Book a tour of your chosen campus before enrolling. Talk with your guide and the instructors you meet about average class size, and the kinds of support offered to students.
Career Colleges Offer Flexible Scheduling for Busy Students
If you have children to take care of, or want to work while attending school, flexibility will be a major factor in your decision to attend university or career college.
Compared to universities, colleges typically offer broader options for busy students, including classes on evenings and weekends, plus online career training. And since career programs a short, you won't need to maintain the balancing act for long.
Decision-making Tip
☑️Talk with an academic advisor about flexibility before signing up for a career program. Let your advisor know what your obligations are so you can build a training schedule that fits your needs.
Your Next Step
If you're interested in college training, your next step is to speak with Admissions. An Admissions Advisor will discuss your interests, strengths, and career goals, and guide you toward the right programs.
This is the best way to compare your options and find the path that fits you best.
Chat live with an Advisor right now. Or request information via email. We're here to help!