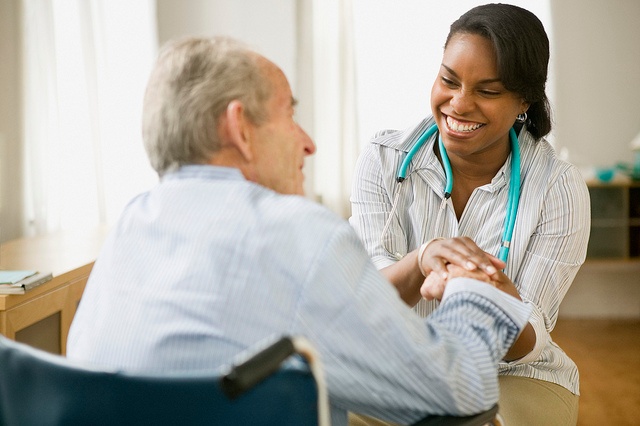 We don't usually do a lot of self-promotion here on the Herzing blog—but in this case, it felt right.
We recently held a series of interviews with our health care aide instructors and students—finding out what's going on in the classroom, and catching up with recent graduates.
We were blown away by how sophisticated this program has become over the years. The level of dedication and passion among the instructors is incredible. And the students we spoke to were overflowing with positive comments on their experience during training.
So, we decided to pull together the highlights from those conversations, and present them here, all in one place. The purpose? To shed some light on what makes Herzing's Health Care Aide Program truly unique—and give our readers an idea of what to expect in class.
If you're considering becoming a health care aide, your first step is to find quality training that leads to a great job. Here's why Herzing's program should be your number one choice.
1. Our Health Care Aide Program is Created & Taught by Licensed Nurses
Your success as a student depends almost entirely on the expertise of your teacher. If you want to build the best skills, you need to learn from the best. This is true for every discipline, and most certainly for health care professions, where people's lives are at stake.
At Herzing, we've been fortunate to attract some of the best health care aide instructors in Winnipeg. Every single one of our instructors is a licensed nurse. For example, Nancy Scott, a registered nurse (RN) with 20 years of experience, helped develop the Health Care Aide Program, and currently teaches at the Winnipeg campus.
The result? An extremely high-quality program that reflects exactly what you'll be doing out in the field. This is the most up-to-date, comprehensive, expertly taught training you'll find in the city.
Our instructors know precisely what hospitals and personal care homes need from HCAs, and they've built the program around those skills.
"What I liked best about Herzing's health care aide program was the course content. The theory and hands-on training was really thorough, and I knew that by the time I graduated, I would be fully prepared to perform in an HCA position. This is what helped us build confidence and get hired after completing the program." (Susan Zirk, Herzing Health Care Aide graduate, class of 2014)
Read our full interview with Susan here: From Bank Employee to Health Care Aide: Meet Susan Zirk, 5 Years Later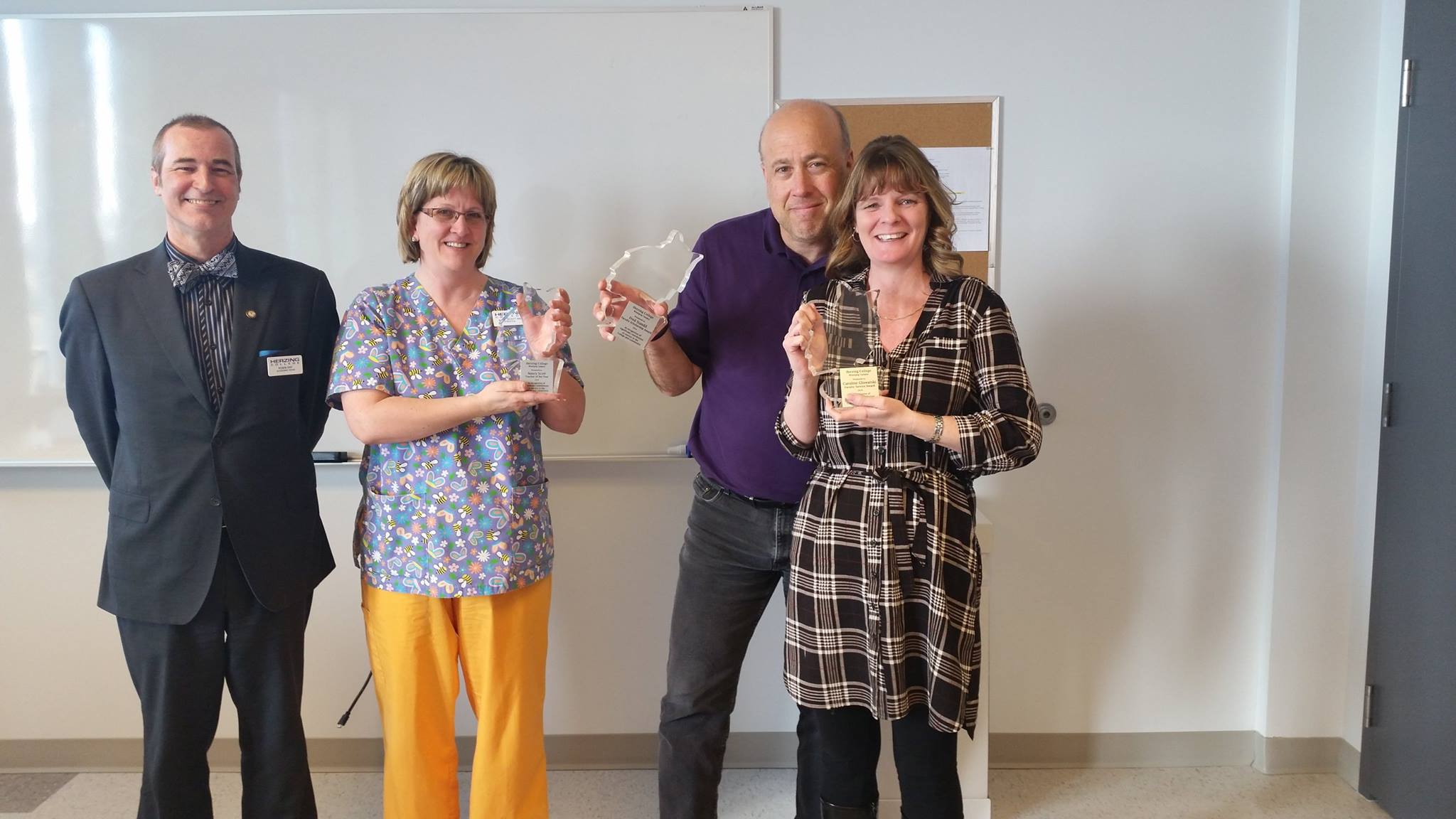 Health Care Aide instructor, Nancy Scott (centre) wins Herzing's "Teacher of the Year" Award
2. Training Includes extra certificates that will get you hired
Another special aspect of Herzing's HCA program is the additional certifications students learn during training. It's pretty standard for health care aide training to include certificates in First Aid, CPR, and Non-violent Crisis Intervention.
But Herzing's training goes beyond this, preparing students to earn two additional certificates.
The first is the WRHA (Winnipeg Regional Health Authority) "Safe Resident Handling Program" certificate. Herzing is currently the only health care college in Winnipeg to offer this training.
We also offer the P.I.E.C.E.S certificate, from the Alzheimer's Society of Canada—which teaches students how to care for patients with dementia.
Why have we added these two certifications to our health care aide program? The reason is simple: this is what Winnipeg employers want. Instructor, Nancy Scott told us:
"I spoke with dozens of employers in Winnipeg, asking them which skills are most lacking right now in health care aides, and what they want most in new applicants. They told me that training in P.I.E.C.E.S and the Safe Resident Handling Program are among the top things they look for.
They said they'd definitely prefer to hire health care aides who already have these certificates. So that's why we added them to the program. Having these certificates gives Herzing grads a huge advantage."
Read our full interview with Nancy Scott: Winnipeg Needs More Health Care Aides: Should You Get Training?
3. Fully supervised 8-week practicum
Most Herzing graduates agree that the practicum is the best part of the health care aide program. This is when they get to work with real patients in a Winnipeg personal care home.
What's special about Herzing's HCA practicum? The length of the work placement, and how closely students are supported by instructors during this phase of training. Nancy Scott explains:
"Our work placement runs for 8 full weeks, and is fully supervised by our instructors, who are all licensed nurses. Other colleges have just 6 weeks of on-the-job training, and the students are usually spread out at different facilities, with limited supervision.
Herzing students do their practicums all together, at a Winnipeg personal care home, where licensed nurses from Herzing oversee and guide their learning for the entire 8 weeks."
This fully supported practicum makes a huge difference for students. It helps them apply what they've learned in a real work environment, and get guidance at every step, so they're totally prepared for their first job after college.
This is why so many of Herzing's health care aid graduates are hired, straight after training, at the personal care homes where they completed their internship.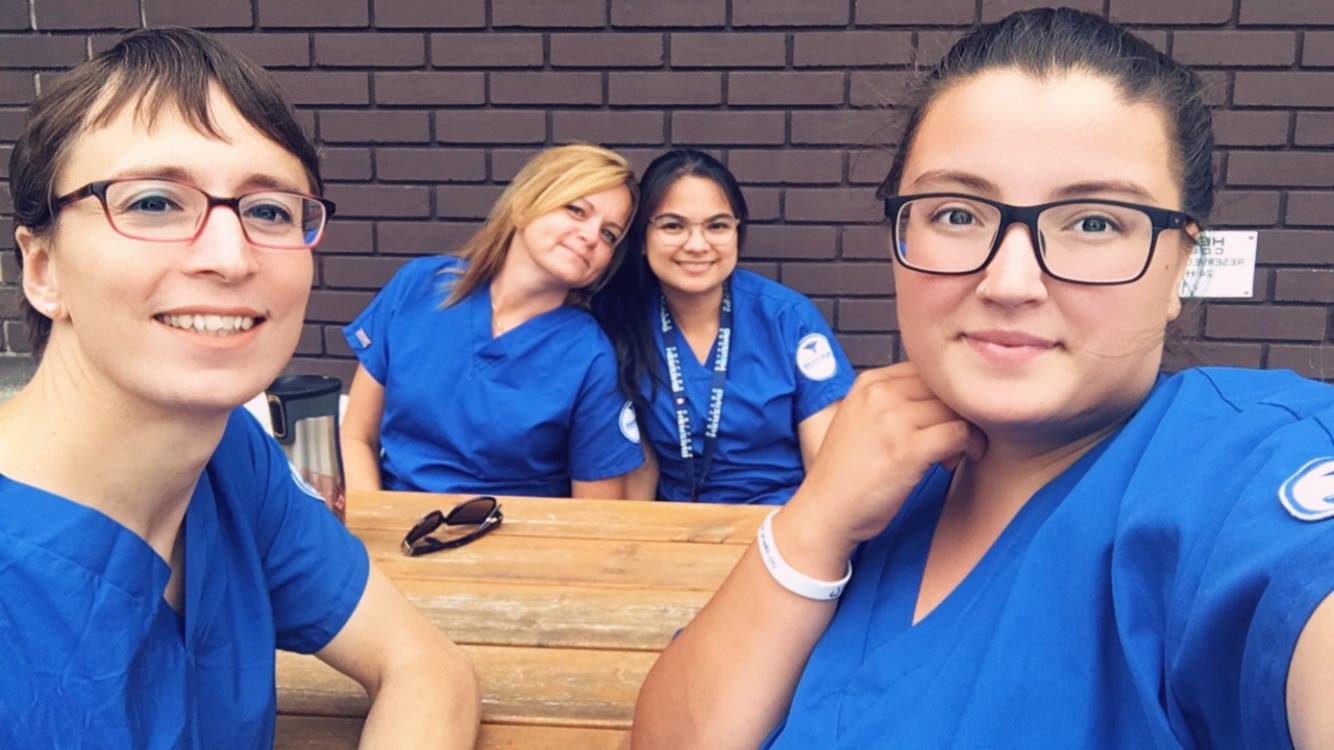 Herzing health care aide students starting their practicum at Extendicare Oakview Place in Winnipeg
4. Best hands-on training in patient care
Health care aide training involves much more than sitting in class, learning about anatomy, and studying patient care techniques. This program involves a lot of lab work—simulations and practice sessions, where student can build their skills with hands-on exercises.
This is another area where Herzing really stands out, and delivers a unique learning experience to health care aide students. Nancy tell us:
"Students really love the lab work, where they get to practice health care aide skills on each other. We do brushing teeth, feeding exercises, moving each other with safety techniques—even spending time in a wheelchair. They practice all the ways they'll be helping clients, really experiencing what the patient is going through.
We also have a fully equipped kitchen—which not many colleges have. Instead of just studying nutrition in class, we get to plan meals and cook together. It's truly the best way to learn, and a lot of fun! "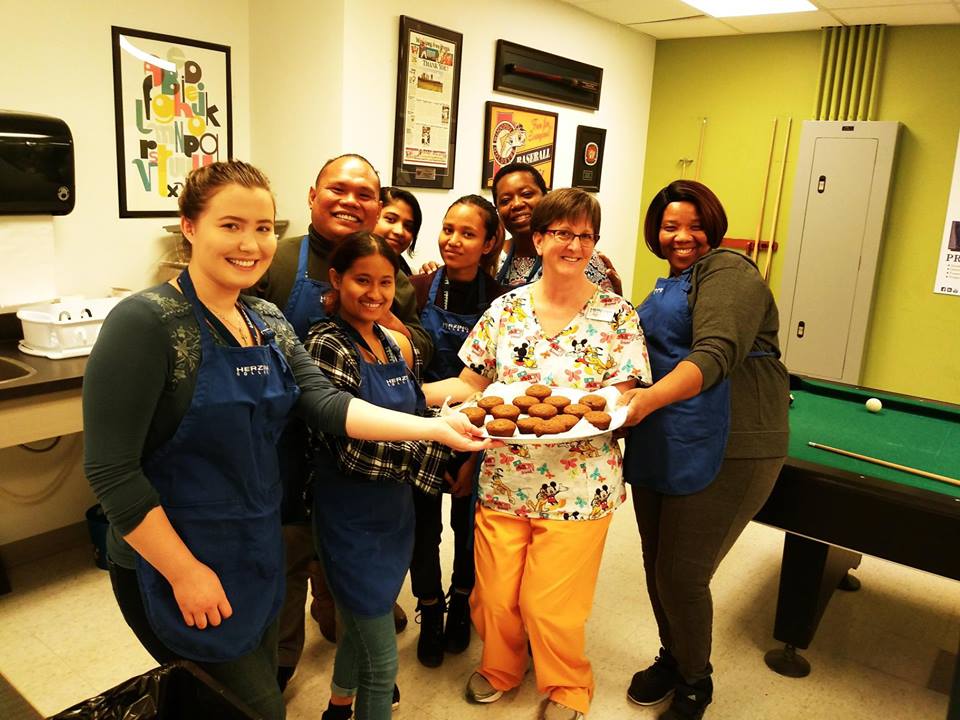 Nancy and her health care aide students practice cooking skills in the Herzing kitchen
5. Very high graduate employment rates
It's no secret that health care aides are in high demand in Winnipeg. But that doesn't mean it's easy to find a great position, and build a successful career in this field. Employers are picky about who they hire, and are always looking for the most prepared, skilled applicants.
If you're comparing health care aide colleges, one key thing to look at is graduate employment rates. What percentage of students find jobs after completing the HCA program? This is a really good way to judge the quality of the training, and ensure you choose the best possible school.
Herzing has an excellent track record in this department. In 2018, a full 100% of available health care aide graduates were employed. We're incredibly proud of this result, as it shows how much employers respect our program, and trust our graduates.
"I got hired at the place where I did my practicum! And I've had a promotion to receive more guaranteed shifts, and have always had full time work hours since I started." (Sheri Richard, Herzing Health Care Aide graduate, employed at Extendicare Oakview Place, Winnipeg)
6. Most dedicated & supportive HCA instructors in Winnipeg
Last, but certainly not least, we have to emphasize how truly caring Herzing's instructors are. The health care aide classes are small, the teachers are friendly—there's a real family atmosphere.
Sheri, a recent graduate, recalls how completely supportive her instructor, Nancy Scott was during training.
"Nancy was my favourite thing about the health care aide program. She's amazing. From the moment you walk in on the first day of training, she welcomes you—and just never stops! Nancy goes over and above to prepare and support her students. We stayed good friends, even after I graduated."
It's true that Herzing's health care aide program is challenging, and requires hard work. But the welcoming, caring environment takes the stress out of the process. This is the perfect place to learn, grow, and prepare for the next step in your health care career.
Ready for more? Serious about becoming a health care aide, and want to learn more about Herzing's program? We'd love to hear from you.
Click the links below to explore admission requirements, courses, and how to get help from a Herzing advisor.
Get fast, free information about courses, tuition, admissions, and what steps to take next. And advisor will get in touch to help you understand the process, and answer your questions.
Browse a list of courses, learn more about the training, and chat live with a friendly advisor. Get information about financial aid, tuition, class schedules, and much more. We're here to help!