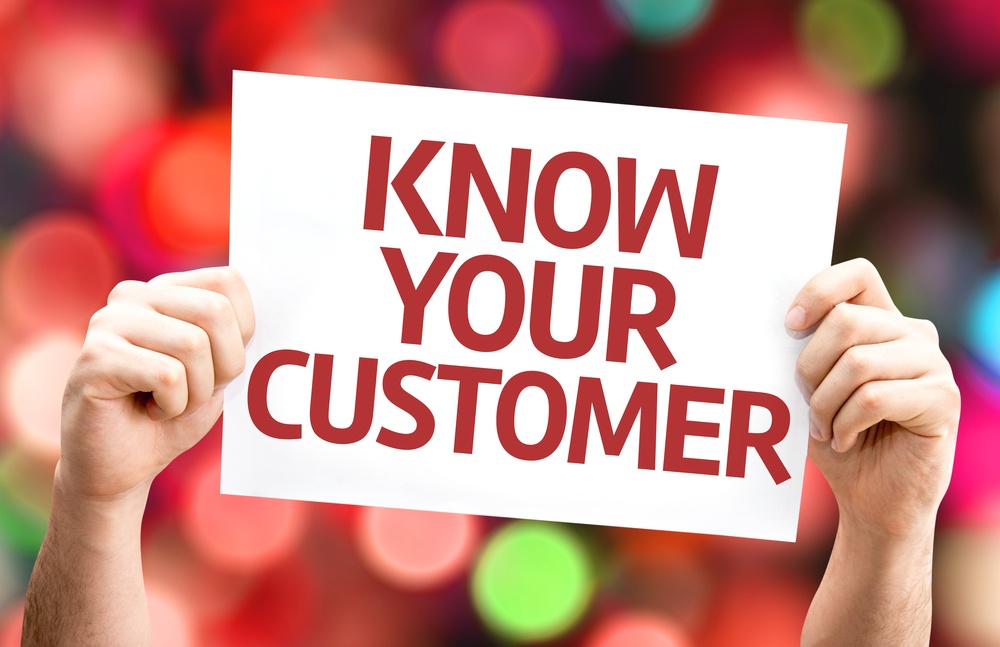 What is a buyer persona, and why would you invest time in creating one for your business or digital marketing team?
A buyer persona is a fictional archetype—a profile of your most important target audience, or in some cases, audiences (you probably have more than one persona).
It's a description of who you're targeting and why, and specifically what your company has to offer these groups of potential customers.
Personas can be existing audiences, who you know are already engaging with your products and services—or a "goal" buyer you'd love to reach, but haven't yet managed to attract.
These profiles take time to research and develop, but most marketers have gotten on board with the idea that genuinely understanding target audiences dramatically increases campaign ROI.
If you don't know much about who you're trying to reach online, how can you possibly make a connection, build a rapport, and attract these potential new leads to your business?
Now that razor-targeted, highly personalized content is king, marketers need personas to direct their efforts, and find their particular niche of customers. It's trite, but true: the more you know, the more you grow.
So what goes into these buyer persona profiles? And if you've already got basic personas, how can you take them to the next level, and find more of your ideal customers online?
Basic Requirements for Buyer Personas
So, if you're just getting started with personas, you'll need to cover the basics. These are the fundamental insights you must uncover about your target audience(s):
Simple background information—like age, gender, income bracket, job title, and location.
Goals—the reasons they would need your products and services; the objectives they are trying to meet, personally or professionally.
Roadblocks—what's stopping them from becoming your customer; what challenges do you need to address and resolve with your marketing?
These are the basics. Just understanding these three dimensions of your target buyers can make a huge difference in how you approach content marketing, advertising, and sales follow-up.
Here's a quick example of simple buyer personas from the inbound experts at HubSpot:

Taking Buyer Personas to the Next Level
The idea of buyer personas is not new. The mantra "know your customer" has been around as long as advertising and marketing have existed.
As more digital marketing teams put time and effort into persona-creation, the practice of micro-targeting customers has become more competitive.
In other words, those personas you created a few years back? They probably need some fine-tuning—a little more depth and insight to take them to the next level, and stay competitive in your niche.
So, what else can you add to your profiles that will generate better ROI for your marketing campaigns and sales process? What information will help you get on the radar of more potential customers, and really refine your conversion process?
Get started with these 4 more advanced persona features:
Make sure you include a picture and a name. Yes, it's a little cheesy, but attaching a photo and name to your personas will make them feel more real—and remind you that your campaigns are all about connecting with actual humans, not data points.
Look closer at "pain points". Paint points are the problems your persona needs to solve (hopefully with your products/services), but they're also reasons they might not become your customer.
For example, they might be skeptical that you can truly help them, unsure of whether they could actually use your product (is it complex?), or worried about cost (sticker shock). Or, maybe they're not the key decision-maker, and there's someone they need to convince to get on board with your service?
These are issues you must neutralize with your marketing. But if you don't know about them, you'll always miss the mark.
Understand your persona's search behaviors. How does your persona find information? Where are you most likely to encounter them online? This can be as simple as knowing which social channels to focus on for your digital campaigns, and whether to include print, radio, or TV in your strategy.
When you dig deeper into search behaviors, you might also learn how best to follow-up with your new leads. Which do they prefer: phone calls, online chat, email? Is there a time of day you should avoid? All valuable insights that will save you time, money, and effort during your sales cycle.
Create a mini-story around your persona. Turn those bullet points about their needs, goals, pain points, and search process into a short narrative. Think of it as "a day in the life" of your target audience.
This is something you can easily share with your marketing team and stake-holders, as a way of instantly communicating the essence of your buyer personas. Take a look at this story example from HubSpot, describing a persona called "HR Tina":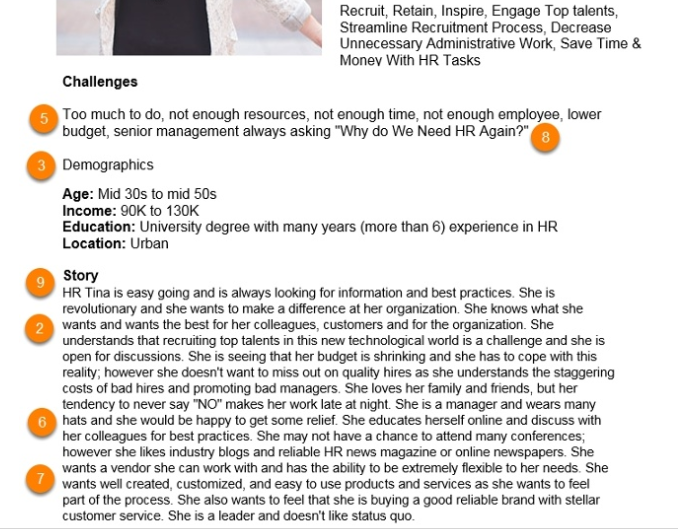 5. One last (but important) tip:
When embellishing your personas, don't get bogged down with superfluous details. While it's valuable to know your target audience on a deeper level, it can be easy to get side-tracked, and start including all kinds of irrelevant details.
Stick to what matters. And don't forget to talk to your customers! Poll them on their wants and needs. Listen carefully to feedback. Check in with your front-line customer service and sales staff for insights.
Creating truly genuine, impactful personas is always a team effort.
Looking for some more help to create or embellish your own personas?
Try this free persona-creation tool from Hubspot for step-by-step instructions and templates.
Interested in other marketing tips, or considering digital marketing training to update your skills?
Explore the online digital marketing courses we offer at Kompass Professional Development. Click below to learn more about our digital marketing certificate for professionals. Or chat live right now with a qualified advisor. We're here to help!