Updated November, 2020.
So, you're thinking about taking programmer analyst training this year. What's pulling you in this direction?
Maybe you've heard that programmers are in high demand. Or, you have a natural knack for coding, and think it might be nice to get paid for what you're already good at.
Whatever your motivation, you're getting ready for that next big step: choosing a college and transitioning back to school.
But before you invest your time, energy, and hard-earned tuition dollars, there are a couple of things to do first.
We always recommend students look a little closer at the program they're considering, and ask some key questions before taking the final leap and enrolling in training.
We're talking about things like prerequisite skills, what you'll actually learn in training, how difficult it may be to compete for jobs after graduation—and how much money you'll earn.
Think you're ready to become a programmer analyst? Here are 5 things to know before you get started.
1. What exactly does a programmer analyst do?
Programmer analysts look at an organization's technology and communications needs, and design information systems that fit those needs. Then, they write the application programs for the system, and get it up and running smoothly.
This process includes writing, testing, and modifying computer code for a variety of computer and software applications.
Programmer analysts are also expected to train end-users, deal with IT support requests, and update/repair existing programs.
Part systems analyst, part coder, part IT support specialist: programmer analysts do it all.
2. How long will it take to complete your diploma?
Compared to 4-year Bachelor programs in computer science or software engineering, a programmer analyst diploma offers a much shorter route to graduation.
You can expect to complete your diploma in as little as 15 months, including an internship for real work experience before you finish.
It's important to note though, that education at the diploma level will prepare you for entry-level, junior programmer analyst positions.
It will be up to you to continue learning on-the-job, and through programming certifications, to enhance your skills and qualify for more advanced roles.
A quality programmer analyst diploma provides the fundamentals—everything you need to get started in the field. The rest is up to you.
Related: Can You Become a Programmer Without a University Degree?
3. What topics are covered in programmer analyst training?
Like we mentioned, programmer analyst training will arm you with the knowledge and skills you need to hit the ground running in an entry-level position.
You'll learn common programming languages, database design and development, web development, and product testing. By the time you graduate you'll be able to:
analyze programming needs
produce algorithms and conceptual models
identify problems, debug programs, and make improvements to existing programs
create mobile applications with .NET
use advanced Java features
deploy, maintain, and secure Windows-based applications
develop interactive client-side web pages
create dynamic server-side web pages
utilize the UNIX operating system, user commands, and communication protocols
program databases using Microsoft SQL Server
Quality Programmer Analyst training will also include an internship. The internship is key for getting hired. Employers want programmers with real work experience.
Recent graduate, Chao Zhang explains:
"Getting practical experience is the key to success in programming. Going into training, I had no experience in this field whatsoever. But because of my internship, I landed a position as a full-stack software developer straight after graduation. "
4. What skills do you need to succeed as a programmer analyst?
So, how do you know if you have the raw aptitude to succeed as a programmer analyst? What sort of skillset do you need to build a successful career in this field?
The obvious answer is technical ability. If you hate the idea of learning new programming languages, operating systems, and testing tools this training is clearly not for you!
But there are other, perhaps less obvious abilities that are just as important for programmer analysts. These include:
analysis and problem solving (absolutely central to the role)
collaborating with others (team work is big for programmer analysts; you'll rarely work alone)
adaptive, quick learner (you must stay on top of new technology, and continuously build new skills)
understand business needs (you should be familiar with the kinds of technology and communications challenges organizations face)
excellent spoken & written communication (from working with businesses to understand their needs, to explaining a new program to an end-user, to taking criticism like a pro—this role is all about communication)
5. How's the job outlook for programmer analysts where you live?
If there's one thing you should definitely know before you start training, it's the job outlook for programmer analysts where you live.
How hard will it be to get a job after gradation? What kind of salary can you expect to make, from entry-level to more advanced positions? What's the long-term employment forecast for this occupation?
All important points to keep in mind when investing in any sort of post-secondary education. The Government of Canada Job Bank has a very handy tool for finding the answers to these questions.
Just type in "Programmer Analyst" and see employment and salary stats for every province, territory, and city across Canada.
We looked at the data for Quebec, and found a 3/3 star-rating for programmer analysts throughout the province.
In fact, demand is rated "strong" for this occupation in almost every part of the country (with the exception of Nunavut, Yukon, and Northwest Territories).
You can dive deeper into the individual forecasts for specific cities, towns, and regions, right here.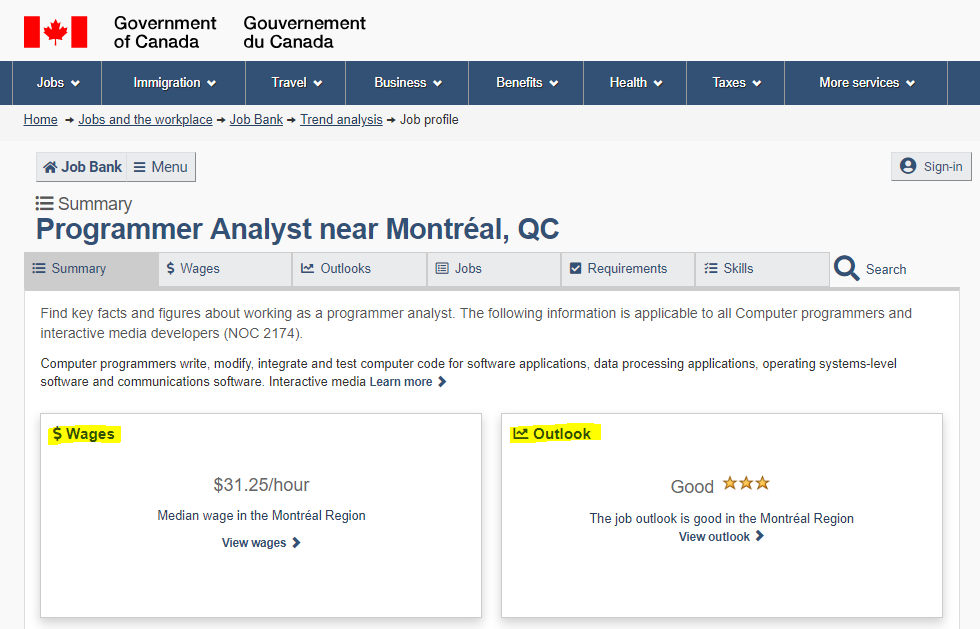 Wondering how much you'll earn as a programmer analyst? The same website offers Wage Reports for every occupation, with comparisons for each part of Canada.
The latest data shows programmers in Quebec are making a very competitive median wage of $31.25/hour. See the complete Wage Report, including entry level and advanced salaries, by clicking here.
The more information you gather before you start training, the better prepared you'll be for the job market after college.
Is programmer analyst training right for you?
Like what you've read so far? Ready to learn more about training? Herzing College Montreal offers a 15-month Programmer Analyst Program, which includes a 14-week internship.
Check out this interview with Chao Zhang. He explains what to expect in class and where he's working now:
Meet Chao: My Experience in Herzing's Programmer Analyst Program
We also suggest speaking with an Admissions Advisor. An Advisor can guide you through the program, answer all your questions, and help you get started.
Click below to explore training and chat live with an Advisor. We're here to help!