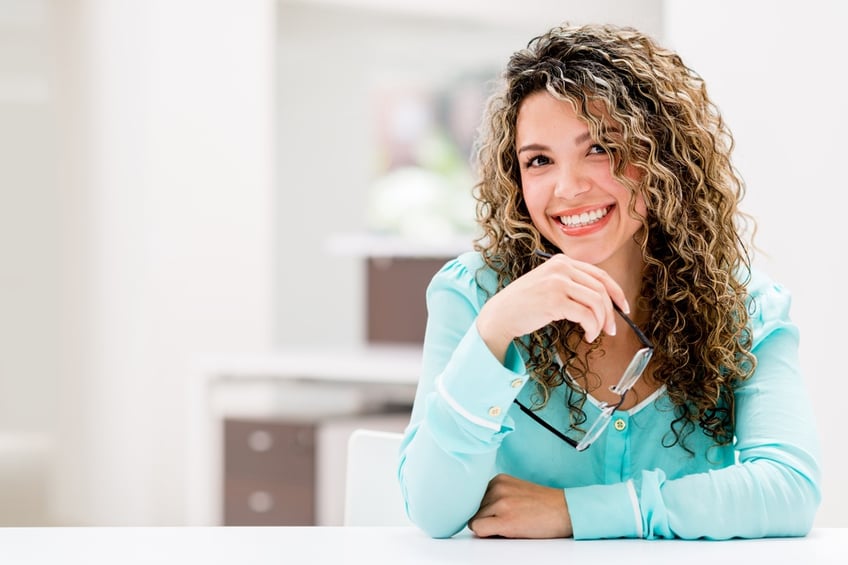 Completing immigration consultant training, and earning membership with the ICCRC is a major accomplishment! But it's not the final hurtle you'll face in becoming a successful consultant.
After graduation you'll be tackling your next big challenge—launching (or joining) a practice and striving to earn your first clients
What is the best way to stand out, prove your expertise, and earn trust as a new immigration consultant? What are prospective clients looking for when they choose a consultant?
These are the 5 attributes most people will want to see when they come across your website, ask friends for referrals, or meet with you in person. Emphasize these strengths, and get your new practice off to a strong start!
1. You're a Member of the ICCRC
Membership with the Immigration Consultants of Canada Regulatory Council (ICCRC) reflects your expertise and reliability as an immigration consultation.
First of all, only people who have completed accredited immigration consultant training can become members of the ICCRC. And you must pass an ICCRC exam after earning your diploma, in order to prove your grasp of the latest immigration rules, programs, and procedures.
Secondly, the terms of your membership demand you complete an "attestation of good character and conduct" and enroll in ongoing professional development throughout your career.
Clients will look for proof of your accreditation and ICCRC membership as confirmation of your expertise and trustworthiness.
Be sure to place the ICCRC seal on your business card and website, and ensure your diploma is prominently displayed in your office, so clients will see that you have met the industry standard of professionalism and competence.
2. You Speak a Second or Third Language
It isn't mandatory for immigration consultants to speak more than one language—but it's definitely a huge asset when it comes to attracting clients.
Many of the people you serve will be learning English as a new language. So being able to assist them in their native tongue will naturally help with explaining immigration processes, collecting documents, and providing instructions (not to mention, putting them at ease and building rapport).
If you are bilingual (or multi-lingual), be sure to highlight this special skill on all of your marketing materials, especially your website. Clients who struggle with English will appreciate the opportunity to work with an immigration consultant who speaks their language.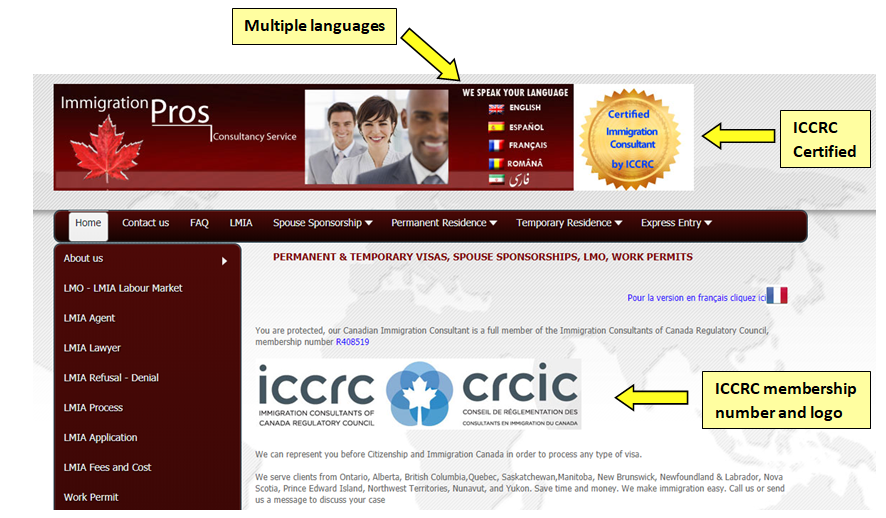 This Toronto-based firm effectively highlights multiple languages and ICCRC membership on their homepage
3. You're Approachable & Caring
The immigration process is very stressful for most people. For those seeking work or study permits, their education and future careers are on the line. Clients seeking permanent residence are naturally concerned about protecting the lives they've worked hard to build here. Others are dreaming of reuniting with family members through the sponsorship program.
Whatever immigration challenges your future clients face, you can be sure they're experiencing some level of anxiety. The application process and rules governing immigration are confusing, and your clients will be looking for an expert who will guide them through it all with genuine care and understanding.
It's important to remember what's at stake for your clients, and ensure you come across as approachable, empathetic, and patient.
4. You Came Highly Recommended
If you've just graduated from immigration consultant training, you won't have much of a track record with which to impress prospective clients. But it's important to focus on building those positive referrals, reviews, and recommendations, right from day one.
As soon as you've helped your first client, don't be shy to ask him/her for a referral—or to post a positive review of your services online.
When searching for an immigration consultant, people will ask friends and family to suggest a professional they've worked with, or heard about through others. They may even ask you for references.
Never forget the power of worth-of-mouth marketing —every person you help can lead you to your next client.
5. You Make Time for Their Questions
Savvy clients will interview several immigration consultants before making their final decision. When someone approaches you with questions about your services, or a request to meet up, always do your best to accommodate their needs.
With so much at stake, it's normal for prospective clients to "shop around" for the most competent, caring, and affordable immigration services in their area.
Take the time to present your credentials, provide references, and show how committed you are to helping others. This is a relatively small investment of time that will definitely pay off with new business.
Are you considering becoming an immigration consultant, and looking for a top-rated immigration consultant program in Toronto?
Take a look at the Accredited Immigration Consultant Training offered by Herzing College Toronto. The diploma takes just 8.5 months to complete and includes a 8-week internship. We also offer online immigration consultant training for busy, working students.
Click below to explore the program, see a detailed list of courses, or chat live with a friendly advisor. We're here to help!