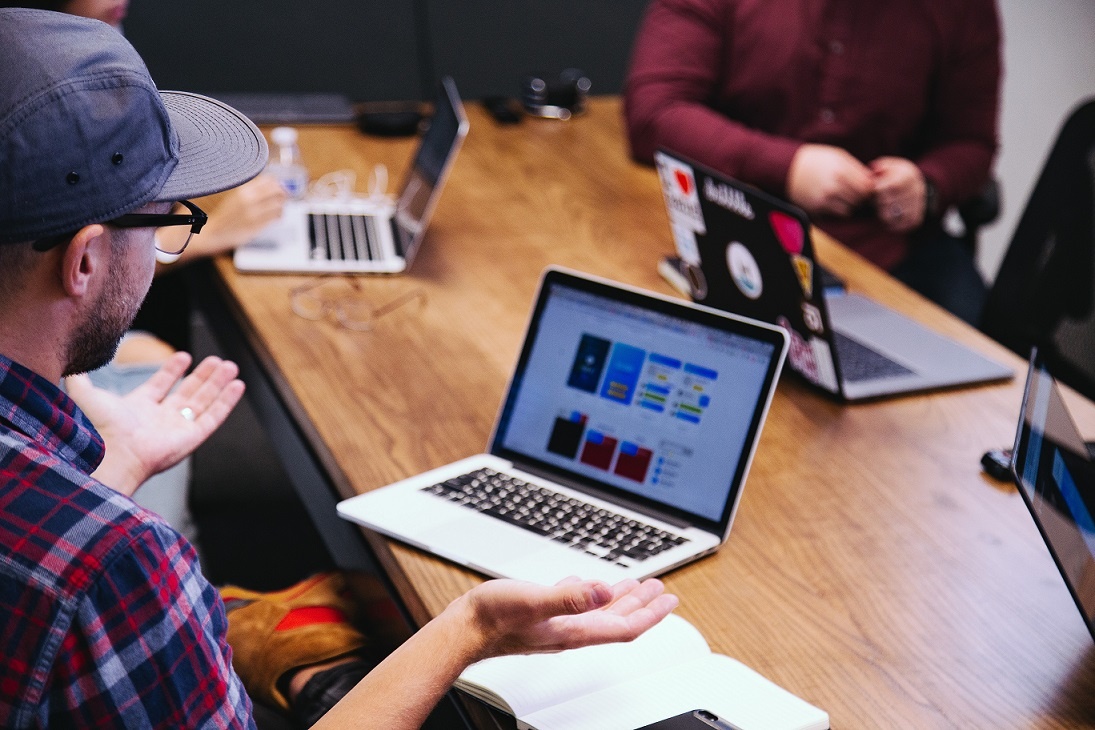 When you think about the role of web designer, what comes to mind?
You're probably envisioning someone planning out a website for a new customer—creating cool graphics, developing a logo, deciding what should go on the homepage, choosing fonts, comparing different layouts...
And yes, these are all steps web designers go through when tackling a project. But, there's a lot more happening behind the scenes. In addition to creativity, and knowledge of design principles and software, web designers need a range of other hard and soft skills to really do well in this competitive, fast-changing field.
What kinds of skills are we talking about? These are abilities beyond the obvious job requirements, that in our experience, students don't often know about when they first begin training.
So we thought we'd write a post about it, for anyone considering this career path, or just starting a web design program.
Take a look at 5 key characteristics you (probably) didn't know you needed to become a successful web designer.
1. Problem-solving, customer service, and a thick skin
It doesn't matter how great your technical design skills are, or how amazing you are at Photoshop and Illustrator—if you can't solve problems for customers, you won't get far as a web designer.
People hire designers to help them reach and engage with audiences online. In most cases, it's about generating leads and making sales. Web designers don't just create whatever they feel like. They must work within specific parameters; requirements laid out by each client.
The client may demand a certain colour palette, want to use a particular collection of images, and have their own ideas about which elements should appear on the homepage or main navigation.
It's the web designer's job to present options, take feedback, and keep re-working the template until the client is satisfied. This means receiving criticism with grace, being flexible with your design ideas, and always putting the customer's needs and goals first.
Related: 3 Reasons Businesses Hire Web Designers to Boost Sales Online
2. Grasp of programming fundamentals
Web designers aren't actually responsible for programming the sites they create—they usually work closely with developers, who handle that side of the job.
However, quality web design training will include basic programming and scripting skills, like HTML, CSS, and Jquery, which are needed to create interactive, dynamic web pages, and to incorporate text, graphics, and multimedia.
It's also useful for designers to understand, from a programming perspective, what it takes to bring their concepts to life. Basic coding skills allow them to test out ideas, and determine whether their designs will work well once a web page "goes live."
3. Persuasive communication and genuine "people" skills
Designers who can communicate their ideas effectively, pitch design concepts persuasively, and build rapport with people will always have an advantage in this field.
Whether via email, video conference, or in-person, web designers must be able to describe their vision for a project, and convince clients or managers that it's the right way to go.
You can't expect the customer (or your boss) to intuitively understand why you've made certain design decisions for a landing page, website, banner ad, or logo. You'll need to explain and justify your approach, and earn their trust, through skillful communication.
In short, you need strong "people" skills to get your ideas heard and move projects forward.
4. Familiarity with online marketing principles
Think web design has nothing to do with marketing? Think again! For most businesses and companies, the website is their most important digital asset. This is where they make sales and connect with potential customers. It's where they drive traffic from social media, advertising, and email campaigns.
For most brands, the website is the centre of their online marketing strategy. As a web designer, you'll need to grasp the fundamentals of digital marketing, and understand the role websites play for each of your clients.
You'll need to think about things like branding, traffic flow, customer journeys, lead generation and conversion, and calls-to-action when creating your designs. You'll need to consider the psychology of online shopping when choosing colours and fonts, and highlighting products.
A good web design program will cover these principles, so students get a solid grounding in the business side of design by the time they graduate.
5. Self-directed, project management skills
Where are you planning to work after web design school? Are you thinking of joining a marketing/advertising agency? Maybe you'll find an in-house design position at a company. Or, perhaps you'll spend some time freelancing.
No matter which path you choose, you'll need to get really good at managing your time and juggling multiple projects and deadlines.
Web designers always have several things on-the-go. Agency designers work with many clients at the same time, freelancers have to balance numerous projects, and in-house design staff have to plan tasks carefully to keep up with demand.
This role is usually quite self-directed. Good web designers are self-motivated, and can work well independently. They know how to develop creative solutions under pressure, and how to budget their time between multiple tasks.
Related: Your 3 Career Paths After Graphic Design College—Agency, Freelance & In-House
Think you've got what it takes to become a successful web designer? Want to dig a little deeper, and explore quality web design colleges in Montreal?
Fill out the Request Information form at the top, right of this screen. Get fast, free information about Herzing's Web Designer & Graphic Design for Web Sites diploma, delivered at the Montreal campus—and online.
Or, chat live with a qualified advisor right now. We're here to help!