Updated February 2021.
Paralegals in Ontario have a special status. Ontario is the only province in Canada in which paralegals can represent clients in small claims court, and before certain tribunals.
They are legally allowed to practice several areas of law, including immigration, provincial matters, landlord and tenant disputes, labour law, and certain criminal matters.
If you're interested in practicing law, but don't want to spend years at university and law school, a paralegal diploma is an ideal gateway to a rewarding legal career.
Think you might take the leap and embark on paralegal training? Wondering if now is a good time to start your diploma?
These are 5 excellent reasons to go for it, and get your Paralegal diploma this year.
1. There is steady demand for paralegals in Ontario
According to the latest research from the Government of Canada Job Bank, there is stable demand for paralegals in Ontario. And it's expected to remain steady for the next 10 years.
The data shows a balanced number of new job seekers and available positions throughout the province. And salaries are competitive, too. The median hourly wage for paralegals in Ontario in $28.21 per hour.
At the highest end of the pay scale, Ontario paralegals are making $50.55 per hour.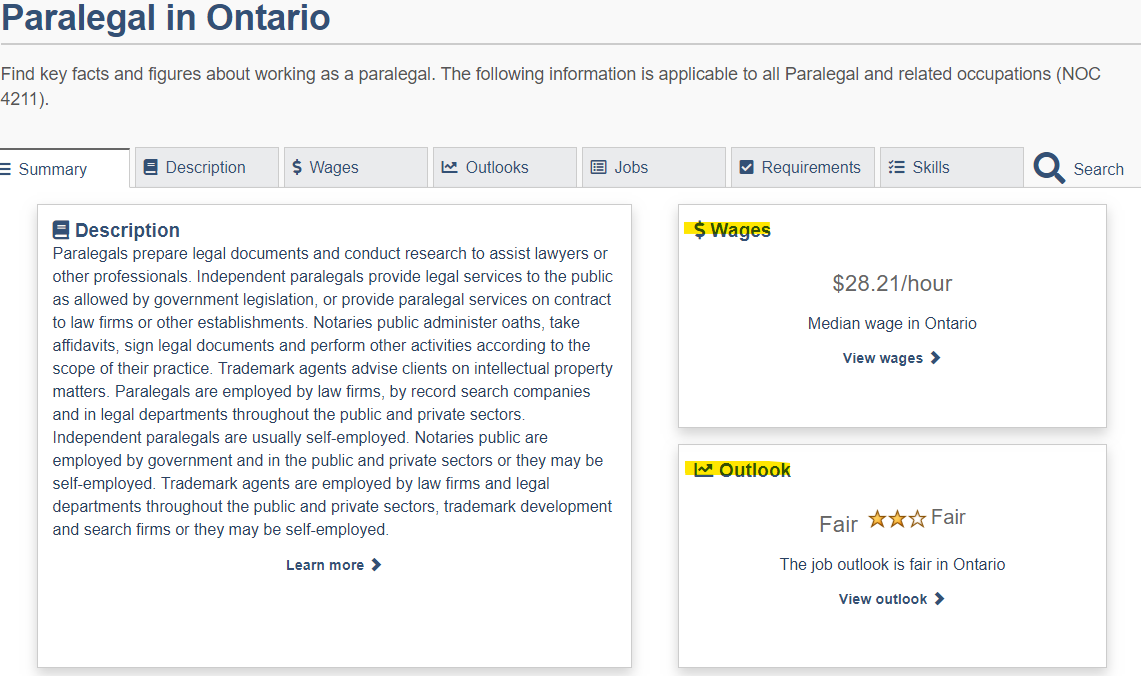 Source: Government of Canada Job Bank, Paralegal Summary Report
Freshly graduated paralegals can still expect to compete for top positions at law firms (and for private clients), but the availability of jobs looks promising for newcomers to the field.
2. You can earn a paralegal diploma in just 12 months
Looking for a quick training path to begin your legal career? A paralegal diploma is probably your best bet. While some universities offer two or four year programs, there are fast-track options at colleges that allow students to finish paralegal training in just 12 months.
It's important to note that these accelerated programs are intensive. You'll attend class for about 20 hours per week, and cover a lot of material during that one year—including an internship for hands-on, professional experience.
If you're up to the challenge, this is an excellent way to become job-ready quickly, and begin earning an income, without investing several years in post-secondary training.
Recent graduate, Majeeda Khan chose the accelerated Paralegal program at Herzing. She says the workload was manageable, and in just over one year, she landed an impressive position with a major law firm.
"The program is fast-paced, but we always had time to work on assignments in class. I was able to juggle school, work, and volunteering...I only missed one class during the whole 12 months.

After graduating, I got hired at Smart & Biggar, Canada's largest, highest-ranked intellectual property firm. I'm working as a legal assistant in the litigation department.

I'm so happy that I decided to enrol in the Paralegal program at Herzing College, because now I have my career headed in the right direction!"
Check out Majeeda's experience in training: My Review of Herzing's Paralegal Program
3. Start your own paralegal practice, be your own boss
Different from legal assistants or law clerks (who can only work under the supervision of a lawyer), licensed paralegals in Ontario can start their own practice and represent clients in court.
Many graduates choose this route and become entrepreneurs. Some offer a range of legal services, or specialize in a particular area of law—such as landlord and tenant disputes or small claims cases.
Click here to learn more about the types of law paralegals can practice in Ontario.
If you dream of becoming your own boss, and lifting the limits on your earning potential, a paralegal diploma is a smart first step toward those goals.
According to Judi Simms, a licensed paralegal and president of the Paralegal Society of Canada, a paralegal just starting out in private practice can set a billing rate of $50 to $75 an hour—and go up from there.
4. Become a valued member of a legal team
Don't think you're cut out for running a private paralegal practice? No problem. Diploma-holders have many others employment options after college.
Paralegals find positions in government, the corporate sector, and at private law firms, working alongside lawyers to deliver services and support to clients.
The kind of work you do in these positions will depend on the type of law your employer practices. For example, if you work at a litigation firm, you'll be drafting briefs, motions, and pleadings, helping with depositions and witness preparation, and assisting lawyers during court proceedings.
If you work in government, typical duties will include conducting research, preparing and filing documents, providing legal aid, and doing community outreach.
After earning your paralegal diploma, you might try out several different kinds of work environments, before settling on a specific area of law, and developing an expertise in that field.
5. Get a head start at law school
Think you might want to upgrade your education one day, and become a lawyer? Students with paralegal training have an excellent head start at law school.
In fact, quite a few paralegals go on to become lawyers after gaining a few years of experience in the field. Maclean's recently ran an article on Ontario paralegals who transition to law school. They interviewed the Humber College program coordinator, Bernard Aaron, who says:
"Of 50 yearly graduates, about five will attend law school next. It's almost a running start... Paralegals bring a confidence. They see what lawyers do and realize they have the capabilities to do the same..."
Working as a paralegal gives prospective law school students a unique perspective. They gain experience in firms or private practice, work directly with clients, and gain insight into how Ontario's legal system works.
For people concerned about the length and cost of a law degree, starting out as a paralegal can be an ideal first step: you can test the waters, and earn a living with your diploma, while working toward a higher degree.
Decide law school isn't a good fit? You'll always have your paralegal training to fall back on.
What's Your Next Step?
Ready to learn more about earning your paralegal diploma? Your next step is to speak with an Admissions Advisor.
An Advisor will walk you through training options, explain tuition costs and financial aid, and confirm you're a good fit for this program.
Get started by exploring Herzing's Paralegal Program, available at the Toronto and Ottawa campus.
Click below to browse courses, learn more about the field, and chat live with an Admissions Advisor.
Spots in this program fill up quickly, so don't wait! Reserve your place in class for the next session.