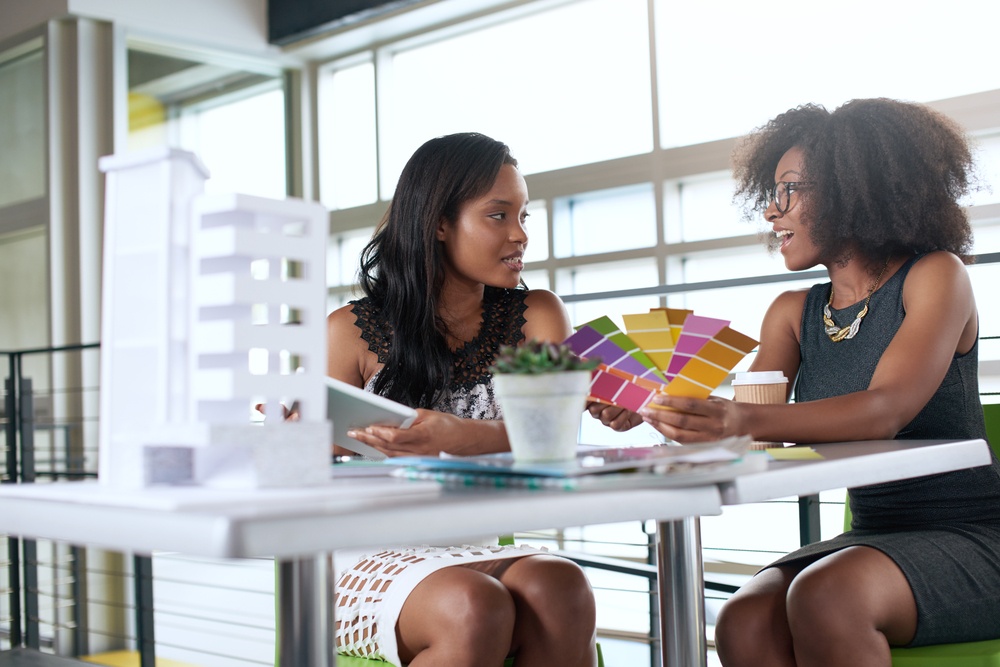 Are there jobs in interior design in Montreal right now? Where exactly could you work after completing an interior design diploma? Do you have the natural skills needed to do well in training?
If you're considering a career in interior design, these are probably some of the questions you're asking.
Smart students look at a range of factors when deciding on a training path—including the local job market, admission requirements, and how the job profile fits with their career goals and personal interests.
If you're leaning toward interior design, but need some clarity before taking the next step, you've come to the right place.
These are 4 very solid reasons to consider an interior design career, and why Montreal is such a great place to get started.
1. You can finish an interior design diploma in just 18 months
Looking for a shorter alternative to a bachelor's degree in interior design? Several colleges in Montreal offer much quicker kinds of interior design training—many of which can be completed in under 18 months.
These programs focus on just the technical skills and interior design principles students must know to be employable, and eliminate the general education courses included in longer training formats.
The goal is to quickly prepare students for entry-level interior design positions, where they will continue to build their skills through real-world projects and professional experience.
There is far less theoretical and philosophical content, and a strong emphasis on learning interior design software, sketching, space planning and decorating techniques, and how to interpret and produce floor plans, elevations, etc.
Click below to get a closer look at a typical course list for an interior design diploma.
Students should expect to work hard during training, as the curriculum for shorter programs is typically condensed and quite intensive. There is a lot to cover in just 18 months. You'll learn a completely new technical and creative skillset, and emerge ready to hit the ground running at your first interior design job.
This is why quality training programs include an internship, to prepare students for the rapid transition from school to work.
Related: 5 Skills You Didn't Know You Needed to Become an Interior Designer
2. Interior design work blends creativity, technical skill & technology
Interior design is both an art form and a science. For students who love thinking creatively, the practice of design presents interesting problems to solve, and opportunities to be truly innovative. But this discipline also demands technical precision, and the ability to learn rapidly advancing computer software (like 3D modelling and virtual reality tools used in design presentations).
Artistry, technique, cutting-edge technology, and the chance to actually improve people's lives through great design—this is what draws "disciplined creatives" to the field of interior design.
3. An Interior design career offers many areas of specialization
Interested in designing interiors for homes? More drawn to restaurant or retail store design? Think you would excel at large-scale projects, like museums, schools, manufacturing centers, or hospitals?
The field of interior design offers opportunities to specialize in many different types of design work. A quality interior design diploma introduces students to residential, industrial, commercial, cultural, and institutional design principles—giving students the chance to explore each area, and consider which applications best fit their natural skills and interests.
Freshly graduated interior designers are employed by architectural and interior design firms, and construction companies, where they get exposure to a variety of projects, challenges, and opportunities to apply and grow their skills.
After gaining a few years of professional experience, some designers go the freelancing route, and build up their own interior design business, usually branding themselves as a specialist in a particular area of design.
Interested in learning more about the kinds of design work you could pursue?
Browse the links below to explore interior design career options, learn more about on-the-job skills and challenges, and see examples of projects.
Retail: Working as a Retail Space Planner After Interior Design School
Industrial: What's it Like to Work in Industrial Design?
Commercial: 3 of the Most Exciting Interior Design Trends for Offices
Sustainable: Eco-friendly Interior Design: 5 Materials Your Clients Will Ask For
4. There is demand for interior designers & technicians in Montreal
While job outlook shouldn't be the only reason you choose a career path, most students want reassurance that there are solid employment opportunities waiting for them after graduation.
Every three years, the Government of Canada Job Bank researches job outlook for hundreds of professions, all across the country, and publishes employment forecasts for every province, territory, and major city.
Each profession is given a 1, 2, or 3-star rating, based on employment opportunities in each region. Interior designers in Montreal received a 2/3-star rating by the Job Bank, meaning design graduates can expect fairly steady demand for their services.
There are relatively low rates of unemployment for designers in the city of Montreal, and employment growth is expected to create new positions over the coming few years.
Students can still expect to compete for top jobs after completing a diploma—but opportunities will be there. Interestingly, a whopping 35% of interior designers and decorators in Montreal are self-employed. Clearly, there is a market for entrepreneurial design grads in the city.
Your Interior Design Career: Next Steps
If you're interested in learning more about interior design training in Montreal, including admission requirements, flexible course schedules, and other program details, we strongly recommend speaking with an experienced career advisor.
Make sure you're a good match for the program, and understand your job options as an interior designer. Choose one of the following:
1) Scroll up, and fill out the Request Information form at the top, right-hand side of this screen. Get fast, free information about interior design training at Herzing College in Montreal.
3) Speak with a career advisor right now, using the chat box on this screen. Get your questions answered, book a campus tour, or learn about admission requirements for the interior design program. We're here to help!