By now, you've probably got the message that Canada is running dangerously short of healthcare professionals.
And if you're considering heading back to school for career training, a healthcare program may be among your top choices.
But, other than a general idea that "healthcare" jobs are hot right now, there are few things prospective students should know about this industry—like local employment trends, job forecasts for specific healthcare roles, and salaries for different healthcare positions.
In this post, we're taking a closer look at what's creating healthcare jobs in Winnipeg.
Which occupations are most in demand? Which of those jobs can you qualify for with a healthcare diploma (versus a university degree)?
We know that a genuine passion for a particular healthcare career will ultimately guide your training decisions—but it doesn't hurt to have a few facts and figures under your belt when taking that next step.
Here are a few things to keep in mind.
1. Manitoba has a high population of seniors aged 85+
Canada's population is rapidly aging. And as we age, more and more of us will need certain kinds of healthcare services and supports.
This is often cited as a top reason to pursue healthcare training—but the truth is, not all the provinces and territories are aging at the same rate.
Some regions in Canada are still quite young, and aren't facing the same kind of healthcare shortages. Like Alberta, Newfoundland and Labrador, and the territories, for example.
On the other hand, we have provinces where seniors are quickly growing in number, and healthcare providers are already struggling to fill jobs related to their care.
Manitoba is one of those provinces. Statistics Canada reported in 2016 that Manitoba is among the top 6 provinces in Canada with the highest populations of people 85+.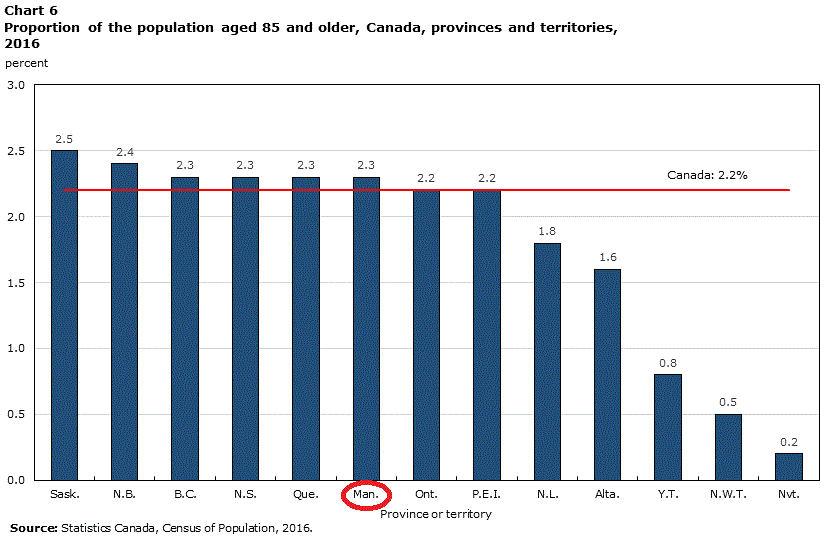 So it terms of healthcare training in Winnipeg, it makes sense to aim for careers that relate to caring for seniors—roles like Health Care Aide.
2. Senior-care professionals are in high demand in Manitoba
If you're thinking about training as a Health Care Aide, you're definitely on track to benefit from Manitoba's growing population of people aged 85+.
The latest employment data from the Government of Canada Job Bank shows very strong demand for senior-care professionals in Manitoba—with Health Care Aide (HCA) topping the list.
HCA gets a 3/3 star-rating from the Job Bank for current demand and future outlook.
What are salaries like for this role? The median salary for HCAs in the Winnipeg region is about $37, 000/year. At the higher end, HCAs are making approximately $45, 700/year.
You don't need a university degree to get started in this field. A health care aide diploma from a respected healthcare college is enough to begin your career.
3. Winnipeg pushing for more social services workers
Community support workers are listed as one of the most in-demand occupations in Manitoba. The Job Bank agrees, awarding this profession 3/3 stars for outlook and growth potential.
There is a huge push for better social services at the community level in Winnipeg, spanning everything from mental health and addiction counselling, special programming for seniors, youth and aboriginal services, and support for homeless people.
Healthcare training in this area is definitely a wise investment for people with a strong sense of social justice, and desire to help vulnerable people access help and opportunity in their local community.
In terms of money, the Job Bank pegs median salaries for Community Support Workers at about $35, 000/year. At the top end, CSWs are making around $60, 000/year in Winnipeg.
4. Winnipeg offers fast, efficient healthcare training options
If you're looking for healthcare training that is quick to complete, and still leads to an in-demand job, Winnipeg colleges have several good programs to choose from.
For example, Health Care Aide training takes as little as 5 months to finish—and you can earn a Community Support Worker diploma in just 11 months.
Other popular healthcare programs under 1 year include Medical Lab Assistant training and Medical Office Assistant training.
These are some of the smartest training investments for people who want a job in healthcare, but don't want to pursue a university degree.
Both medical lab and medical office assistants received 3/3 stars for demand on the latest Job Bank report for Winnipeg.
Not interested in any of the healthcare training programs we talked about here? That doesn't mean the career you want isn't a good investment.
Do a little digging to find out what demand is like for the field you want to enter—and whether a college diploma is enough to get your foot in the door.
The Government of Canada Job Bank is a great place to start. They list helpful information about demand, salary, required education, and job outlook for hundreds of occupations, all across Canada.
Just enter the occupation you're interested in, and get the latest stats for Winnipeg.
Need help deciding which healthcare program is your best bet?
The best way to make sure you're making a smart healthcare training investment is by speaking with a qualified Admissions Advisor.
Most Winnipeg colleges offer this free service to anyone who is considering enrolling in one of their programs.
At Herzing, we speak with prospective healthcare students every single day. Our goal is to make sure you understand exactly what is taught in our programs, which jobs you can get after graduation, and the skills you'll need to succeed in your chosen field.
Chat live with an Admissions Advisor right now, or request free information on healthcare training via email. We're here to help you get started!