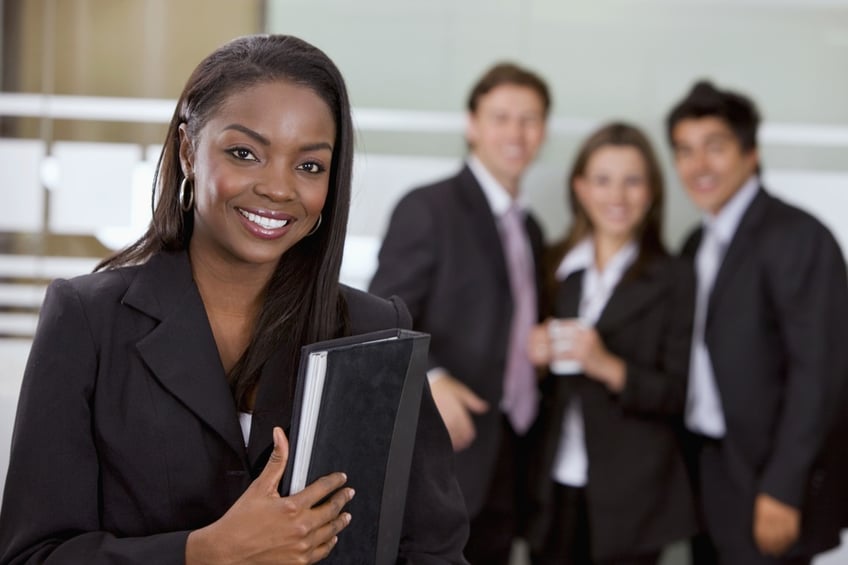 If you're pursuing business management training, you've probably already envisioned yourself as a leader. You like taking charge, aren't afraid of responsibility, and above all, you enjoy a good challenge.
And challenge is exactly what you'll get in those first supervisory and management roles after college! Whether you're responsible for a small group of two or three people, or a whole department, becoming an effective leader requires a special skillset.
In addition to the technical and analytical skills you developed in college, you'll need to understand human behavior, group dynamics, how to gain respect and motivate a team...you'll need to determine what kind of leader you'll strive to be.
Take a few moments to walk through these, and a few other common challenges new managers face, along with some words of wisdom from business heavyweights who've mastered leadership.
1. Making the shift from co-worker to supervisor
Your very first position after business school will probably not be a management role. However, with your skills and drive, you will likely move into a supervisory position before long. When you get there, you'll need to make the shift from co-worker to boss—from friend to manager. This transition can be a bit bumpy, particularly if the person/people you now manage were also up for promotion.
You'll need to be diplomatic and respectful, but also firm. You earned the promotion. You're ready to lead. Your focus will be on reassuring your team members that you respect their abilities, and are prepared to work hard alongside them (rather than kicking back, exploiting your new "power", and making team members pick up the slack).
Management expert, Victor Lipman, describes this challenge as a balancing act, and advises:
"Initially you don't want to come on as too weak, or too strong. You can't be everyone's friend, but neither can you wield newfound power wildly."
2. Micromanaging: doing everyone's job for them to ensure perfection
This is a trap many, many managers fall into—whether they're newly hired or have years of experience. You want to do well and impress your employer, so you micromanage your team members, hover over them as they work, and practically do their jobs for them.
In the end, you get no work done yourself, and your team members get the message that you don't really trust them to do a good job. This is a recipe for disaster.
You must believe in the talents of your team. Explain tasks clearly, offer support only when it's needed, and give helpful feedback. Other than that, step back! Being a good manager means connecting with, and trusting, the people you lead.
Angela Ahrendts (Vice President of Apple) sums it up perfectly:
"Everyone talks about building a relationship with your customer. I think you build one with your employees first"
3. Motivating your team to work hard
This is a tough one. Managers use all kinds of tactics to get their team members to work harder. We've all worked under people who use fear, intimidation, deception, or even guilt to push employees. This might yield short terms results, but won't garner you respect or long-term productivity.
Team members respond to managers who truly believe in what they do, work hard themselves, and show real care and respect for others. The best managers inspire employees to work hard because they want to, not because they have to.
Author, instructor, and business strategist, Brian Tracy, has this word of advice for managers looking to motivate a team:
"Become the kind of leader that people would follow voluntarily; even if you had no title or position."
4. Confronting an employee who is not performing well
It's never easy to point out a team member's faults. However, if you've worked hard to build a positive relationship with the people you supervise, dealing with performance problems will be easier—they'll know you have their best interests at heart.
A few key steps to follow include:
prepare carefully for the meeting: note down areas for improvement, and strategies to address each area
meet with the employee privately: never point out flaws in front of a group
set clear expectations for improvement, and book a follow-up meeting to discuss progress
be tactful and respectful, never accusatory or threatening
It's always better to deal with performance issues sooner rather than later. Your team is only as strong as its weakest link, and it's your job to help strengthen those weak points.
As a final word of advice, we'll leave you with this epic quote on leadership from Russell H. Ewing. This sums up everything new management grads should reach for throughout their careers—from that first supervisory role, to eventually running an entire division or business:
"A boss creates fear, a leader confidence. A boss fixes blame; a leader corrects mistakes. A boss knows all; a leader asks questions. A boss makes work drudgery; a leader makes it interesting."
Inspired to learn more about what it takes to thrive in business management?
Looking for trustworthy business management colleges to start your training?
Consider Herzing College's Business Management Training, delivered at the Ottawa campus. This diploma takes just 12 months to complete and includes a 4-week internship.
Visit the program page to see a detailed list of business management courses included in the program, admission information, or to chat live with a knowledgeable advisor. We're here to help!